A look at global infrastructure projects being worked on by Canadian firms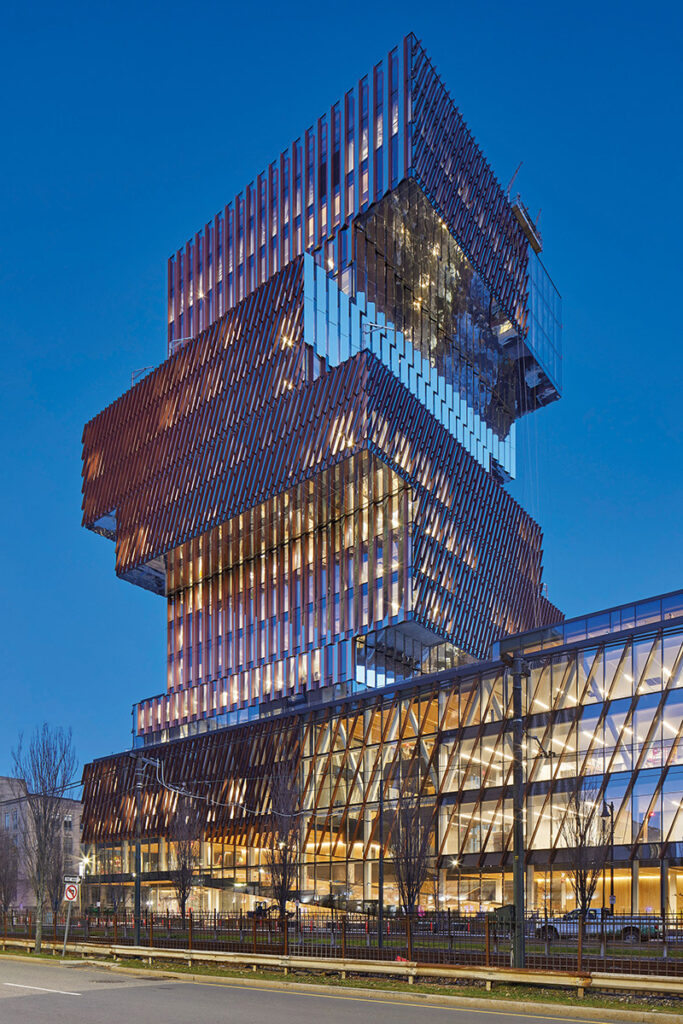 BOSTON UNIVERSITY CENTRE FOR COMPUTING & DATA SCIENCES
BOSTON, U.S.
Boston University (BU) announced the opening of its Center for Computing & Data Sciences (CCDS) in June 2023 alongside its LEED Platinum designation. At 19 storeys tall and 345,000 sq. ft., the building is one of the largest in the University's history. Entuitive provided structural engineering services and building envelope consultation on the project, with envelope and façade design contributing directly to realizing BU's sustainability goals.
Built to be sustainable by design, the structure sits atop an extensive network of subterranean geothermal wells to provide heating and cooling. It also has a state-of-the-art façade to turn heads just as much as the building's awe-inspiring architecture, featuring counter-clockwise cantilevered levels every three floors. Also, BU's CCDS is not connected to any gas line and is 100 per cent fossil fuel free.
"From the early stages of design and planning, façade considerations such as exterior shading, glazing selection, and detailed thermal performance metrics played a key role in the building's overall performance," says Chris Van Dongen, associate, Building Envelope, Entuitive. "As the building envelope consultants on the project, Entuitive's collaboration on the façade design directly contributed to reduction in mechanical system requirements and energy demand."
Some project specific services included:
Optimizing façade detailing for constructability and performance, including the complex integration of exterior shading elements into a unitized curtain wall façade.
Evaluating glazing performance metrics to deliver required thermal performance while optimizing daylighting and solar heat gain.
Delivery of detailed thermal performance analysis to optimize curtain wall layouts (opaque-to-vision) and to maximize thermal performance of system detailing.
Extensive performance mockup and site testing for façade and roofing systems, including participation in enclosure verification, testing and commissioning process.
The sustainability efforts of the building were designed to align with the University's broader Climate Action Plan, which aims to make BU net-carbon neutral by 2040.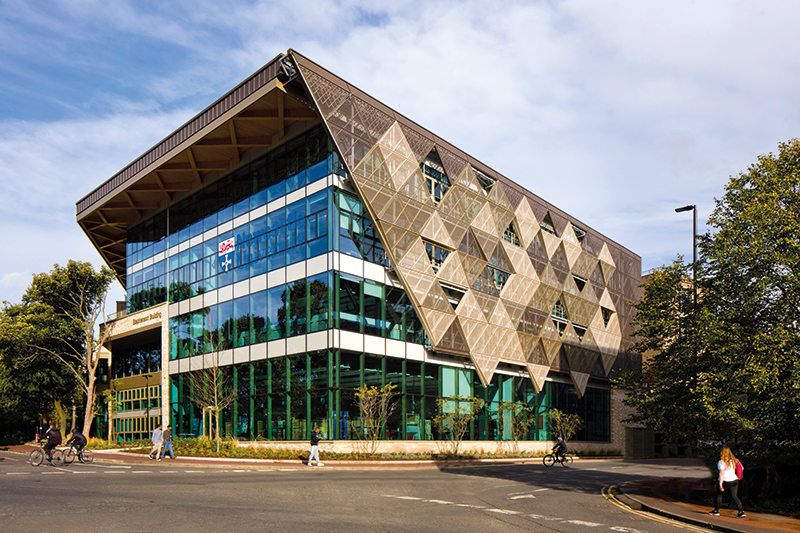 STEPHENSON BUILDING
NEWCASTLE, U.K.
The Stephenson Building at Newcastle University brings multiple engineering disciplines together under one roof in the form of a world class hub for engineering excellence and cross-disciplinary collaboration. Located in Newcastle upon Tyne, U.K., the redeveloped building spans 200,000 sq. ft. It features specialist research and collaborative learning spaces, multi-purpose labs, machine workshops and a student-run maker space.
The building was carefully crafted to be flexible and adaptable for future teaching and research requirements.
"The redevelopment was designed from the 'inside out' to transform a dated and inefficient cellular building into an open and welcoming destination that encourages interaction and collaboration," said Mal Lorimer, senior architect at NORR. "It offers a breadth of research and learning environments in open and accessible spaces connected by an impressive, three-storey, light-filled atrium."
Traditional lecture theatres were replaced by two 180-person collaborative teaching spaces, organized around groups of six—one of which is a circular space that evokes a giant cog or jet engine.
"Following the UN Sustainability goals, NORR worked with Newcastle University to develop a bespoke sustainability assessment," said Robin Stewart, principal at NORR. "Adapting and reusing this important city centre site was critical to ensure a reduction in embodied carbon, as well as achieving net-zero carbon (NZC) in use."
"We improved the thermal envelope and air tightness, incorporated Glulam and CLT timber upper structure along with a CHP (combined heat and power) plant and photovoltaic panels to make this a highly sustainable redevelopment," he added. The solution worked to decarbonize five additional existing adjacent buildings on campus, resulting in net zero impact supporting Newcastle University's NZC 2030 ambitions.
Technology was integral to the design and construction of this highly MEP serviced building. From the outset, NORR's multi-disciplinary team used a wide variety of tools ranging from BIM (Building Information Modeling) and energy-modeling to using Common Data Environments (CDE) for project management, quality assurance and design collaboration. NORR was the lead on clash-detection and resolution.
Originally built in the 1950s, the redevelopment design captures the 70-year heritage while creating a new landmark gateway building for the campus and the city. Phase 1 comprised a highly contemporary extension that was completed in August 2023; Phase 2 will unify the new extension with the remodelled and reclad original frontage.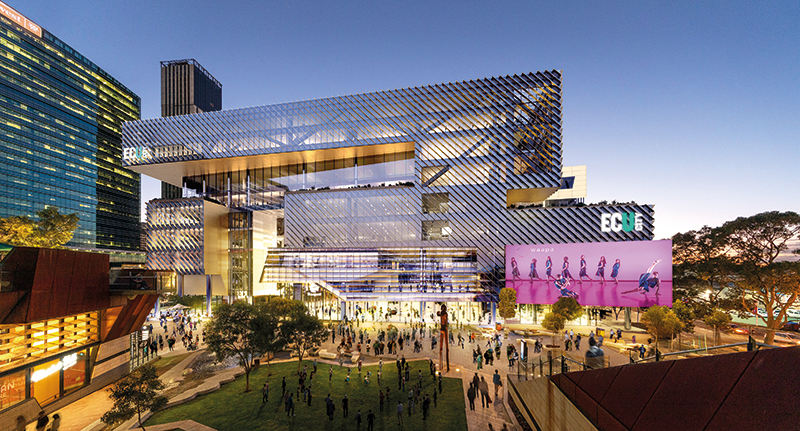 EDITH COWAN UNIVERSITY CITY CAMPUS
PERTH, AUSTRALIA
Edith Cowan University (ECU) City is Western Australia's first comprehensive city university campus. As the centerpiece for one of the largest contracts from the Perth City Deal, ECU City represents a collaboration between the Australian Government, Western Australian Government, and the City of Perth.
As lead engineers, Stantec's integrated team is providing civil, structural, mechanical, electrical, hydraulic, fire protection, specialist lighting, and vertical transportation engineering as well as building and traffic planning services.
The new vertical campus is located directly above Perth Transport Authority's busport and the Fremantle and Joondalup train tunnels, which requires a balance be found between limiting the load and preventing movement from the underground assets. The designs also require alignment with the extremely sensitive acoustic needs of the performance rooms and studios to reduce noise interference.
Targeting a Five Star Green Star rating, the project will feature adaptive and energy efficient climate control with natural ventilation.
When completed, ECU City will integrate creative industries, business, and technology courses with ECU's internationally recognized Western Australian Academy of Performing Arts (WAAPA). The new campus aims to attract more than 9,000 students and staff when it opens in 2025, growing to more than 11,000 students and staff by 2034.
"We have a clear vision and ambition for Western Australia's first comprehensive city campus, and that is to deliver a remarkable university as well as a landmark for Perth's CBD," said ECU vice chancellor, Professor Steve Chapman.
"Students, staff, and visitors will be treated to a sensory experience from the moment they step in. It will be like nothing they have ever known.
"ECU City's design, both physically and symbolically, reaches outwards, with a strong visual connection to its surroundings."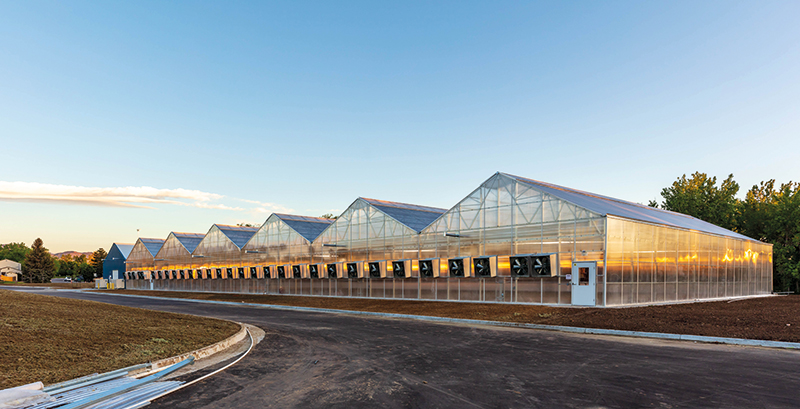 GLENBROOK GREENHOUSE
DENVER, COLORADO, U.S.
This past June, PCL Construction marked the successful completion of Denver Public School's (DPS) Glenbrook Greenhouse—the first commercial greenhouse in the U.S. owned by a school district. This project is reshaping the way students are nourished and educated, providing fresh, locally grown produce to feed over 90,000 students across more than 200 schools.
Spanning four acres in Denver, Colorado, this $4.5-million endeavour encompasses a 28,000-sq. ft. greenhouse with the capacity to hold up to 35,000 plants. Features such as new site utilities, a fire access loop, a storm detention pond, and a warehouse area to facilitate distribution of vegetables contribute to its functionality and safety.
Transforming an underdeveloped plot of land into a state-of-the-art commercial greenhouse site equipped with Controlled Environment Agriculture technology, PCL has empowered DPS to grow local produce on a large scale. This initiative is expected to address health disparities among students, bridging the gap between lower-income and higher-income children attending DPS schools and contributing to improved academic outcomes.
"Seeing this highly innovative and one-of-a-kind project come to fruition is rewarding for PCL and the entire project team. Being a part of the bigger picture in providing students with fresh produce and nutritional value is why we partnered with DPS on building this greenhouse," said Ryan Schmidt, PCL Construction's Denver district manager.
Since opening, the greenhouse has provided vibrant fruits and vegetables, including cherry tomatoes, sugar snap peas, cucumbers, and strawberries. Its approach extends to using bumblebees as pollinators, enhancing crop quality, increasing yields, and reducing labour.

PACIFIC HIGHWAY 
NEW SOUTH WALES, AUSTRALIA
The 155-kilometre Woolgoolga to Ballina Pacific Highway upgrade was the final link in the Pacific Highway, between Hexham and the Queensland border, to be upgraded to four lanes.
Partnering with Transport for NSW and Laing O'Rouke in a joint venture as delivery partner, WSP managed the delivery of the 129-km Glenugie to Ballina bypass section of the upgrade. The joint venture (Pacific Complete) had overall responsibility for providing planning, programming, design management, procurement, and construction management services who, in turn, managed the contractors building the infrastructure.
The project has been delivered under a delivery partner model that was based largely on the delivery approach used for the construction of the London Olympics infrastructure. This was the first time the Delivery Partner Model was used for a major Australian infrastructure project.
The Woolgoolga to Ballina upgrade project crossed some of the most diverse and challenging environments including two major river catchments, floodplains, significant areas of soft soil, threatened species habitat, and sensitive heritage areas.
Potential environmental impacts on various ecosystems and several threatened species were considered, and the team developed 37 specific environmental management plans to protect fauna and flora. Other design initiatives reduced the land required for the project, saving 127 hectares of vegetation.
The project was committed to hiring local Indigenous people and achieved higher-than-promised Aboriginal employment rates, with 300 people employed at the project peak and 1 million hours worked. There were high levels of community engagement, Aboriginal heritage was protected and celebrated, and a range of local Aboriginal businesses became suppliers.
Innovative digital engineering systems were developed, such as the web-enabled Geographic Information System (GIS). It provided instant access to the current real-time data and information on one accessible system for all the users, wherever they were. The teams could quickly access data on site to identify and resolve any design, construction, community, or environmental compliance issue, saving time and money.
The project team built 155 bridges along 129 kilometres between Glenugie and Ballina, including over the big Northern NSW Rivers: the Clarence River at Harwood and the Richmond River at Broadwater. This work included more than 8,900 precast elements which required a standardised approach to enable program certainty, risk management, economies of scale, logistics and simple interfaces between bridge and civil contractors.
Despite major events such as bushfires, flood events and the COVID-19 pandemic the project team opened the final link of the Pacific Highway to traffic in December 2020.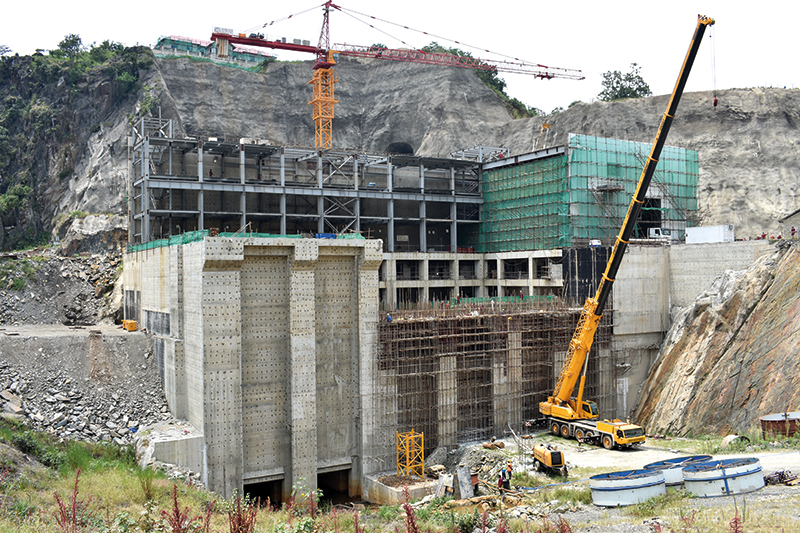 REGIONAL RUSUMO FALLS HYDROELECTRIC PROJECT
BURUNDI/RWANDA/TANZANIA, AFRICA
Rusumo Falls is located on the Kagera River between Rwanda and Tanzania, approximately 25 kilometres downstream of the Burundi, Rwanda, and Tanzania common border point. The Kagera River Basin, an area of about 60,000 square kilometres, is shared by Burundi, Rwanda, Tanzania, and Uganda. It is the most remote headstream of the River Nile and the largest tributary to Lake Victoria, the world's second largest freshwater lake.
Rusumo Falls was originally identified as an area for hydropower generation in the 1970s to address inadequate energy—a major socio-economic challenge facing Burundi, Rwanda, and Tanzania. The shortage of electricity in these countries led to an underdeveloped manufacturing sector, limiting opportunities to reduce poverty and modernize critical infrastructure like water supply, healthcare, and social infrastructure. Most households in the region rely on wood for their cooking and heating needs, leading to extensive deforestation and soil erosion.
Following previous attempts, funding for the Regional Rusumo Falls Hydroelectric Project (RRFHP) was eventually jointly secured from the World Bank by the three countries. They subsequently formed the Rusumo Power Company Limited which mandated the Nile Basin Initiative to proceed with the project through its subsidiary the Nile Equatorial Lakes Subsidiary Action Program (NELSAP).
The RRFHP involves the construction of a dam on the Kagera River and a power plant on the Rwanda and Tanzania border. It also includes a run-of-river scheme on the Kagera River at the Rwanda and Tanzania border and a surface powerhouse equipped with three Kaplan turbines.
As the lead of the owner's engineer joint venture, AECOM is responsible for the inception report, detailed design, procurement documents, contract management, construction management, commissioning supervision, post-construction services and project close-out.
"NELSAP's mission to contribute to the eradication of poverty, promotion of economic growth, and reversal of environmental degradation aligns entirely with our Sustainable Legacies strategy," said Joe Salim, senior vice president with AECOM. "We believe we all leave a legacy; our goal is to create positive lasting impacts on people and our planet."
With an expected completion date of December 2023, the RRFHP, once operational, will bring 80 MW of renewable, clean, equally shared, and relatively low-cost power to the national grids of Burundi, Rwanda and Tanzania for generations to come.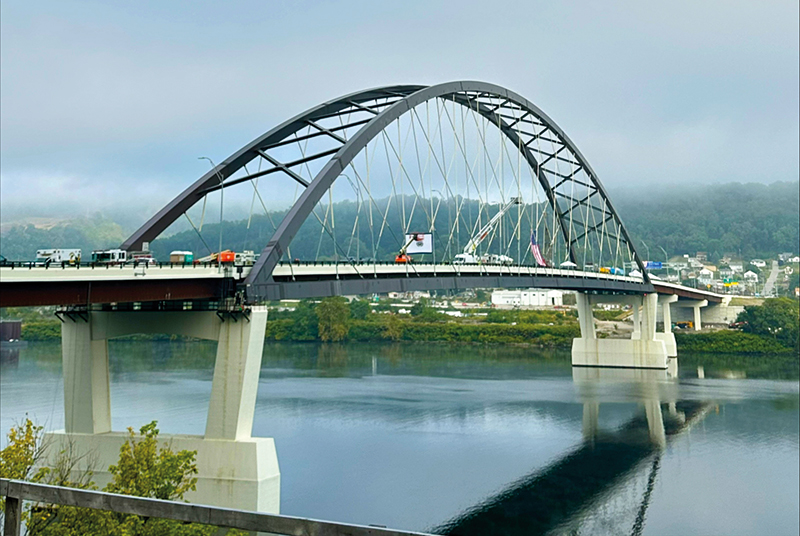 WELLSBURG BRIDGE
WELLSBURG, WEST VIRGINIA, U.S.
The new Wellsburg Bridge crosses the Ohio River to connect the cities of Wellsburg and Brilliant. The new bridge connects Route 2 in West Virginia, near Wellsburg, to Route 7 in Brilliant, Ohio, providing a key and reliable artery for northern West Virginia and eastern Ohio communities. The new bridge is owned by West Virginia Division of Highways (WVDOH) and was constructed by Flatiron Construction. Project financing was made possible through a public-private partnership (PPP), involving Flatiron, WVDOH, the Ohio Department of Transportation, as well as Federal Highway Funds.
As a subconsultant to RS&H, COWI is the Engineer of Record for the design of an 830-foot span network tied arch bridge across the Ohio River as part of a Design-Build project. The bridge carries three lanes of traffic and a multi-use trail. The steel arch rib geometry is radial, as opposed to the traditional parabolic curve, which provides a lower rise and more efficient shape when combined with a network cable arrangement. The span was lifted onto two pairs of barges and moved into position in a massive, 13-and-a-half-hour operation. It was the largest bridge float-in project performed in North America. The bridge was supported on the barges by eight sets of mega-jack towers. Once in place, it was slowly jacked up until it was high enough to rest on the concrete piers.
Several Canadian offices of COWI contributed to the success of this challenging project. Parts of the scope provided by COWI personnel in Canada included the Service Life design, the design of several critical steel elements of the bridge superstructure, and senior review for the substructure and superstructure design. According to the Jorge Perez Armino, senior reviewer for the project, based in Halifax, "The new Wellsburg Bridge is a great landmark, a world-class bridge project that has greatly benefited from the cross-border collaboration that COWI is able to offer to all of our clients in North America."
The Wellsburg Bridge is expected to have several benefits for the communities it connects. It will reduce travel time between Wellsburg and Brilliant, stimulate economic development in the area, provide a new river crossing for commerce, and offer an alternative route across the river if maintenance work needs to be done on nearby bridges.
[This article originally appeared in the November/December 2023 edition of ReNew Canada]
Featured image: The Stephenson Building at Newcastle University. (