Minister of Transportation Jeff Yurek has announced that the Government of Ontario will introduce the Getting Ontario Moving Act on May 2, an Act focused on improving transit and transportation in the province.
At the core of the announcement is details surrounding how the government plans to get subway lines built quicker and at a lower cost to taxpayers. This includes replacing the plan for a tunnel under the Don River with a bridge as part of the Ontario Line, working with property owners to incorporate transit-oriented development, and using lighter track technologies.
The Act will "give us the legislative tools to upload ownership of future subway expansion projects to the province, so we can get them built faster," Minister Yurek said during his remarks at a Toronto Region Board of Trade event announcing plans for the new Act. Yurek said this is phase one of the government's plan to upload the TTC to the provincial government, taking on responsibility for the construction of new transit infrastructure.
Following his formal remarks, Yurek sat down for a chat with Toronto Region Board of Trade CEO Jan De Silva. During their conversation, talk of using air rights to entice development in and around subway stations emerged, with Yurek suggesting that they would explore selling enough of those rights in order to at least cover the cost of developing a given transit station.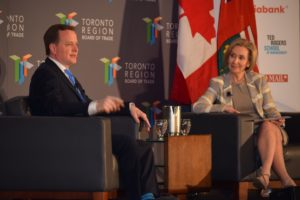 "Selling air rights above subway stations means private sector builders can decrease the cost to taxpayers," said Yurek. "Jurisdictions like London and New York have created tremendous value with this and there's no reason why Toronto cannot do the same." Transit-oriented development plans have already been introduced by this government as part of the development of the Mimico GO station and the Woodbine LRT station.
The speech also included notes about plans for new safety measures in the transportation sector, including:
Increased fines for drivers that travel in the left-hand lane;
A new offence for driving instructors that violate a zero-blood alcohol or drug presence requirement;
Stronger fines for careless driving around road maintenance, construction workers, recovery workers, and tow trucks; and
Allowing motorcyclists to access the HOV lanes.
The Ministry will also launch two upcoming province-wide consultations, one that will review speed limits, and one to analyze the rules of the road for bicycles, e-bikes, and e-scooters.