Guideway construction along Hurontario Street marks an important step for the Hazel McCallion LRT (also known as Hurontario LRT), which will extend from Mississauga to Brampton.
The team's current task is to construct the bed of the tracks, also known as guideway construction. This step is in preparation for track installation.
Work will progress from south to north, beginning between Matheson Boulevard to Britannia Road.
"Installing tracks along the roadway isn't as easy as affixing rails to the ground. Crews first need to dig the roadway up, then dig down as deep as five feet before installing the foundation of the guideway," said Bernard Sharpe, director of trackworks for the Hazel McCallion LRT.
"Once the foundation is installed, the guideway will be backfilled and topped with a concrete slab, followed by installation of the tracks," Bernard added.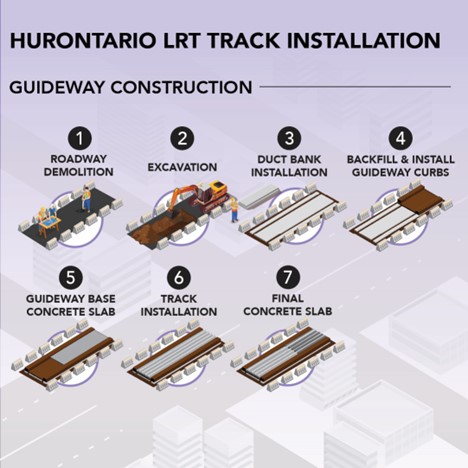 Key areas where guideway construction is up and running include along Hurontario Street from Bristol Road to Britannia Road – which is currently being excavated – and at the operations, maintenance and storage facility (OMSF), where there has been over 15 metres of track laid in the yard to date.
At these locations, track work is happening on the roadway between intersections (also known as mid-blocks) before progressing to the intersections. Mid-block work has minimal impact on pedestrians and traffic flows at intersections, so it's business as usual.
Once work begins at intersections, there will be east-west road closures and detours for motorists and transit.
Featured image: Guideway construction is well underway along sections of the Hazel McCallion LRT. (Metrolinx photo)