Strategic investments in public transit and bridge infrastructure are expected to help boost local economics and address the impacts of the COVID-19 pandemic in northern and rural communities in Ontario.
Funding was announced for 15 projects that will better help residents of North Bay and surrounding communities address their commuting and transportation goals.
Improvements to the North Bay Transit terminal, new bicycle storage areas at key cycling destinations, and bicycle racks on buses will make it easy for riders to transition between active transportation and public transit. Improvements to para-transit buses, new bus shelters with solar-powered lighting, and new digital bus stop signs, will improve safety and accessibility. The implementation of "transit-on-demand" will allow North Bay's transit service to shift from a fixed-route schedule to a responsive on-demand scheduling system during evening and Sunday service.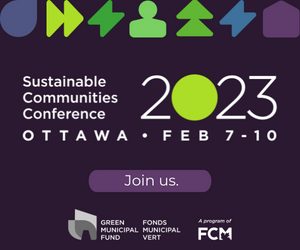 In the community of Chisholm, upgrades to Alderdale Road will improve safety for emergency vehicles and commuters. In Mattawa, improvements to Dorion Road will improve winter driving conditions and provide better drainage. For residents of Mattawan, the replacement of Murphy Road Bridge will make the bridge more accessible for school buses and other vehicles. Cyclists in Powassan will benefit from better riding conditions with upgrades to Maple Hill Road.
The Government of Canada is investing more than $13.4 million in these projects through the Public Transit Infrastructure Stream (PTIS) and the Rural and Northern Communities Infrastructure Stream (RNIS) of the Investing in Canada plan. The Government of Ontario is providing over $8.9 million, while the municipalities of North Bay, Chisholm, Mattawa, Mattawan and Powassan are contributing more than $8.7 million for these projects.
"These long-awaited improvements to transit infrastructure in North Bay and other communities in Nipissing will improve safety and accessibility for public transit users, cyclists and motorists alike," said Vic Fedeli, Ontario's Minister of Economic Development, Job Creation and Trade, and Member of Provincial Parliament for Nipissing, on behalf of Laurie Scott, Ontario's Minister of Infrastructure. "Commuters in Northern Ontario often face unique challenges, and the modernization of our public transit system will mean more efficient and faster travel experiences."
Investments in public transit and infrastructure were also announced for Temiskaming Shores and Coleman Township.
In Temistaming Shores, public transit users will benefit from five new low-floor buses that will improve reliability and comfort for riders. Four bus shelters will be replaced and two more will be added, providing passengers with greater safety and better protection from the elements. New fare payment technology will enable customers to use contactless payment with reloadable cards. Transit users will also be able to track their bus with a real-time smartphone application, making trip planning easier.
In Coleman Township, the existing single-lane Larose Bridge will be replaced with a new, two-lane structure to improve safety and reliability for motorists, cyclists and pedestrians. The new bridge will support better traffic flow, reduce service interruptions, and improve emergency service response times.
The Government of Canada is investing over $1.2 million in these projects through the PTIS and more than $2.9 million through the RNIS of the Investing in Canada plan. The Government of Ontario is providing more than $2.7 million to the projects. The City of Temiskaming Shores is providing more than $832,000, and the Township of Coleman over $332,000.
"The projects will enable the residents of Temiskaming Shores and Coleman Township to get to their destinations safely and conveniently," Marc Serré, Member of Parliament for Nickel Belt on behalf of Catherine McKenna, Minister of Infrastructure and Communities. "Investing in modern public transit systems and roads and bridges is essential for building healthier, more sustainable communities for tomorrow."
Through the Investing in Canada plan, the Government of Canada is investing more than $180 billion over 12 years in public transit projects, green infrastructure, social infrastructure, trade and transportation routes, and Canada's rural and northern communities.