Prime Minister Justin Trudeau conducted a small but significant virtual shuffle of his ministers today, moving ministers around in three prominent files that will play key roles in economic recovery.
The shuffle follows the departure of Navdeep Bains, who is not intending to run again in the next election, which could come as early as this spring. Foreign Affairs Minister Francois-Philippe Champagne is replacing Bains for the Innovation, Science and Industry portfolio.
Transport Minister Marc Garneau moves to Champagne's former role. Garneau's responsibilities will include handling Canada's relations with China and for working with the incoming Biden administration in the U.S.
Member of Parliament Omar Alghabra takes over the Transport portfolio. Alghabra was previously the parliamentary secretary to the Minister of International Trade Diversification and will now be in charge of managing the transport file that is dealing with the domestic airline industry as it continues to push for government aid amid the ongoing pandemic.
"With an engineering background and a history of advocating for public transit in the GTA, I know Omar will do an outstanding job in this new role," tweeted Trudeau.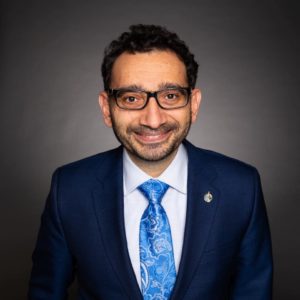 New Minister of Transport Omar Alghabra
Trudeau has stated that he wants departments crucial to the country's economic recovery from the COVID-19 pandemic to be overseen by ministers who will be around to help promote the government's agenda during the next election campaign.
An upcoming virtual cabinet retreat will focus on management of the ongoing pandemic, including the rollout of vaccines, and economic recovery plans that include significant investments in the fight against climate change and to support areas such as job creation, affordable housing, and skills training.
For further information, click here.