The Government of Saskatchewan recently announced that it plans to invest $52 million in 2020-21 to replace or extend the life of highway bridges and culverts in the province. These projects are part of the government's $7.5 billion two-year capital plan to stimulate economic recovery.
"Building bridges and culverts will boost the economy while improving infrastructure that will serve the province for decades to come," said Highways and Infrastructure Minister Greg Ottenbreit.  "These projects are another way we can build for the future while helping our recovery from the global pandemic."
This year's investments keep Saskatchewan on target to meet its Growth Plan goals of rebuilding 200 bridges and replacing 2,000 culverts over the next decade.
A number of bridges are undergoing major repairs, including the following:
Highway 11 over the CN Rail line north of Saskatoon at Warman ($1.1 million);
Highway 1 over the CP Rail line near Swift Current (contract to be tendered);
Highway 1 over the CP Rail line near Maple Creek ($3.8 million); and
Highway 376 over the North Saskatchewan River at Maymont ($2.2 million).
Two major bridge rehabilitation projects have already been completed this year:
Highway 3 over the South Saskatchewan River southeast of Prince Albert ($650,000); and
Highway 55 over the Saskatchewan River north of Nipawin ($700,000).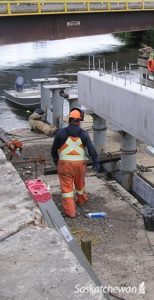 The government also plans to replace 18 to 20 short span bridges, including a $3 million replacement bridge on Highway 5 over the Assiniboine River near Kamsack.  In addition, the government will replace 130 culverts across the province.
A weekly highway construction update is published is available here.
Featured image credit: Indian Head, Saskatchewan by Dan Loran @loran01.