Close to 500 municipal and industry leaders from across Canada have gathered in the nation's capital this week for the Federation of Canadian Municipalities' (FCM) Sustainable Communities Conference.
The conference features three days of discussions on the issues in building sustainable, resilient communities, and the solutions that municipalities across Canada have created.
"This is the moment where we […] look at very practical things that municipalities do to support the sustainability agenda," said Brock Carlton, chief executive officer of FCM. "Some of it relates to our programming, but most of it is just about creating the space for our members to learn from each other, inspire each other, and take action on a sustainability agenda."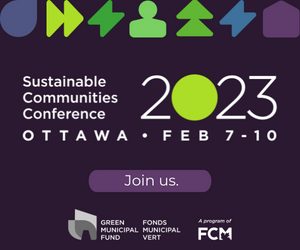 During a workshop focused on green affordable housing, looking at the successes and challenges of building the infrastructure, Salus Ottawa's Executive Director Lisa Ker discussed the work her team did to achieve the Passivehaus (or Passive House) standard, resulting in an energy savings of 85 per cent versus conventional construction. The standard, developed in Germany in the 1990s, focuses on building infrastructure that minimizes the heating demand of the building by using recovery and circulation. In order to achieve this, there were five primary areas that had to be focused on during construction: insulation, air tightness, thermal bridge-free, high-efficiency windows/doors, and mechanical ventilation with energy recovery.
As Ker discussed the materials that were used to achieve the benchmarks in each of the five focal points, including high-efficiency fans from Kentucky and windows imported through the Canadian branch of an Austrian company, an audience member was quick to address a vital question: what were the additional costs? Ker explained that, originally, it was expected to cost six-to-nine per cent more than a conventional build, but through additional cost-savings found, that additional cost became three-to-six per cent. However, she noted that the long-term energy savings captured by the 42-unit mental health residence would outweigh the upfront cost.
But how does a municipality find that extra three-to-six per cent of additional up front cost in the age of growing infrastructure deficits? One audience member suggested that the building code might need to change, providing regulation that forces contractors and municipalities to build this way regardless. Or perhaps the economies of scale will reduce the cost of the necessary products, much like we have seen with capacity building in the renewable energy sector.
The financial paradigm, and how to overcome it, is the largest obstacle facing the construction of resilient and sustainable infrastructure across Canada. And it is at the roots of the three days of discussions in Ottawa, as municipalities share their stories of how to build resilience in a cost-effective manner.