The Women's Infrastructure Network (WIN) presented the Outstanding Leader and Emerging Leader awards at its 9th Annual WIN Awards at in-person events across Canada in Toronto, Vancouver, Halifax, Ottawa, and Calgary.
The WIN Awards Program recognizes the contributions of exceptional women in the Canadian infrastructure industry. This phenomenally successful Program has been held annually since 2015 and over the years has resulted in over 300 nominations of exceptional women across the country from all disciplines.
For 2023, a total of 56 nominations were received, including 29 for Outstanding Leader and 27 for Emerging Leader.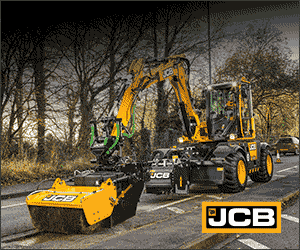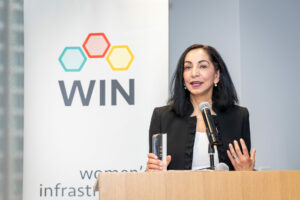 2023 WIN Outstanding Leader
Jay Grewal
President & Chief Executive Officer
Jay joined Manitoba Hydro as President & Chief Executive Officer (CEO) in February 2019.
Jay is a proven leader with almost three decades of leadership and corporate management experience including at executive levels in the utility, resource and consulting sectors. She has joined Manitoba Hydro from the Northwest Territories Power Corporation where she held the position of President & CEO. Before then Jay held senior executive roles with Capstone Mining Corp, Accenture, Inc., BC Hydro, and CIBC World Markets.
Jay holds both a bachelor of arts (honours) from the University of British Columbia as well as a master's degree in business administration, finance from the Richard Ivey School of Business, University of Western Ontario.
"I'm truly humbled by the award, especially as it comes from my peers," said Grewal. "A terrific group of candidates were nominated this year, and to be singled out is not something I expected.
"If anything, the award is one more indication of the contribution being made each day by the employees of Manitoba Hydro as we not only plan for the future but stay steadfast in our resolve to provide our customers with the energy they need each day."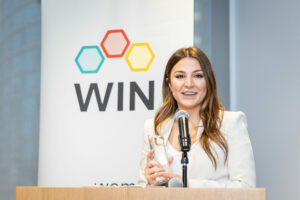 Sarv Jahankhani
VP, Infrastructure, Regional Business Leader, Western Canada
As the regional business leader for Stantec's Infrastructure group in Western Canada, Sarv is responsible for operational excellence in achieving financial and performance objectives of various sub-disciplines. This includes urban design, highways, rail, bridges, transit, land development, and transportation planning.
Sarv is a professional civil engineer and project manager with more than 10 years of experience in management, detailed engineering design, construction, contract management, and business development. She has led and directed multidisciplinary project teams with a focus on projects with comprehensive technical requirements. Sarv is an effective communicator who sees the big picture and complicated project details with a strategic mind. This lends her the ability to develop ideas and provide solutions with and for her teams, clients, and stakeholders.
Featured image: 2023 WIN Emerging Leader, Sarv Jahankhani (left) and 2023 WIN Outstanding Leader, Jay Grewal. (WIN)