The Town of Caledon announced it has completed the rehabilitation of the Columbia Way stormwater management pond designed to prevent floods, protect water quality, and add to the natural habitat that enhances the community.  
"I'm excited to see the outcome of this project and thank the community for their patience and support during the construction," said Mayor Annette Groves. "This rehabilitated stormwater pond offers the community enhanced natural landscaping from the new plantings around the pond. The project also includes the re-opening of the trail and surrounding greenspace." 
This November, the Town of Caledon's Engineering Capital Design and Construction Division completed the Columbia Way Stormwater Management Pond south of Columbia Way between Taylorwood Avenue and St. Michaels Crescent in Bolton. Some spring maintenance details will be done in Spring 2023. The trail from Schaefer Place and St. Michaels Crescent has been re-opened as of November 15, 2022. Monitoring of pond performance will be ongoing through 2023 and 2024.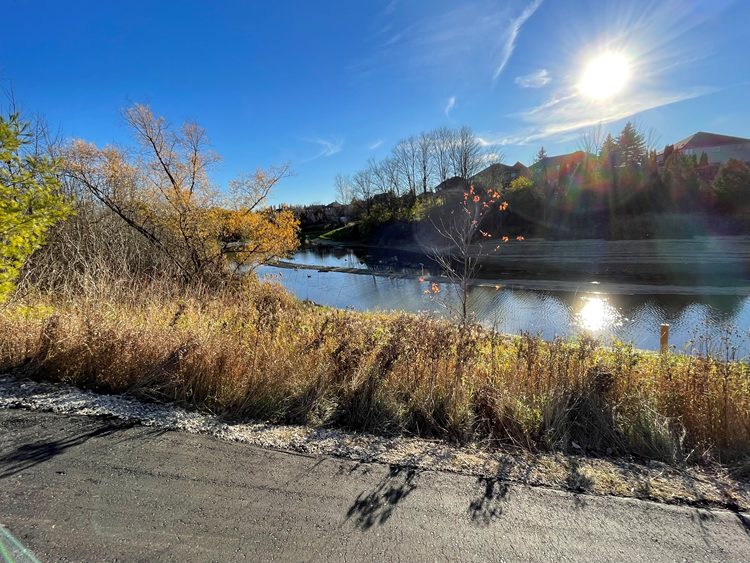 "The Columbia Way stormwater management pond rehabilitation demonstrates the Town's evolving understanding of stormwater management standards and best practices," said Ryan Grodecki, manager, Engineering Capital Design and Construction, Engineering Services Department. "The pond's rehabilitation is exemplary in that it not only provides flood control and water quality improvements but enhances the aesthetics of the natural area and supports local wildlife through bird and amphibian habitat features. The lessons learned throughout the design and construction processes will be carried forward by the team to inform future capital stormwater improvements."
Featured image: (L to R) Dalia Al-Ali senior project manager Stormwater Engineering; Councillor Ward 6 Cosimo Napoli; Cassie Schembri senior project manager Stormwater Engineering; and Andrew Pearce director Engineering Services. (Town of Caledon)