Industry leaders involved in the redevelopment and revitalization of brownfield properties were honoured as part of the 23rd Annual Brownie Awards, presented by Actual Media Inc. in collaboration with the Canadian Brownfields Network (CBN). The event was held at the Delta Hotel by Marriott in the heart of downtown Toronto.
Dedicated to the rehabilitation of sites that were once contaminated, under-utilized, and undeveloped, the Brownie Awards provide annual recognition and celebration of brownfield projects, policies, and innovators across the country. These properties contribute to the growth and resilient renewal of healthy cities and vibrant communities.
This year, the Brownie Awards boasted the most geographically diverse variety of projects and project teams in the history of the awards program, featuring finalists from British Columbia to Newfoundland.
"Welcome to the best and the brightest in the industry," said Master of Ceremonies Todd Latham, president of Actual Media and a founder of the Brownie Awards. "Every year we gather everyone to talk about these 'sites with personalities.' Understanding words like brownfields and their meaning is important. It's also great to see how they have evolved over the past two decades. But there's still work to do. Derelict properties should be considered a redevelopment opportunity."
The Brownie Awards 2021 champions honoured this year include the following: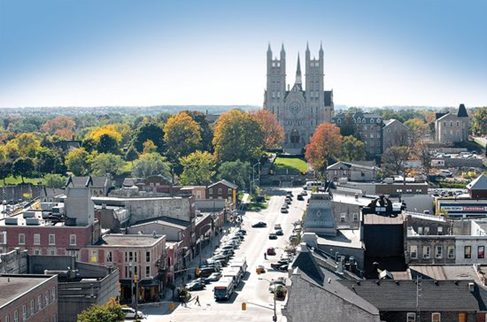 REPROGRAM: Legislation, Policy and Program Initiatives
City of Guelph, Guidance for On-Site and Excess Soil Management – Guelph, Ontario
Recognizing the significance of Ontario's incoming Excess Soil Regulation (O. Reg. 406/19), the City of Guelph proactively initiated the development of contract specifications that would align construction projects to the regulation, as well as a plain language guidance document intended to guide the city's project managers in their understanding of the regulation. Combined, these documents foster the delivery of construction projects in the city — either by the city and other project leaders — in compliance with the regulation. Both efforts took into consideration the potential for encountering impacted soils at infill or brownfield sites, as well as identifying and distinguishing soil suitable for beneficial reuse at these sites.
Specifications development included the engagement of the city's engineering and legal staff, allowing for the selection of a contracting approach that would both facilitate managing city risks, as well as promote project efficiency. The development of the guidance document included assistance from multiple city divisions and the city's broad network of consultants (primarily Stantec), thus producing a comprehensive, understandable document that simplifies the implementation of the regulation.
Project Team: City of Guelph (engineering and legal departments) and Stantec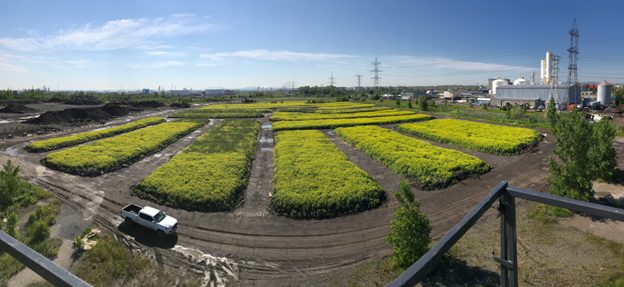 REMEDIATE: Sustainable Remediation and Technological Innovation
Dow-Petromont Rehabilitation Project – Montreal, Quebec
The Dow-Petromont Rehabilitation Project demanded an innovative solution for a large-scale biopiling project. The project team spent two years experimenting with solutions to ensure the best possible outcome. Laboratory testing and pilot biopiles were used to determine whether improvements to organic amendments and structuring agents, as well as the use of surfactant to mobilize PAHs, would help increase the rate of degradation. The biopiles in this innovative co-composting system were built on top of an impermeable lined base, also covered with a liner to maintain temperature and optimize contaminants recovery.
The project team also introduced the use of telemetry and tablets for real-time biopile treatment monitoring to ensure that the solution was having the expected results. As a result of the implemented solutions, approximately 190,000 m3 of soils were treated using biopiles, while 35,000 m3 of soils were treated using additional step of rhizodegradation.
Project Team: Dow Chemical Canada ULC, Petromont, and WSP Golder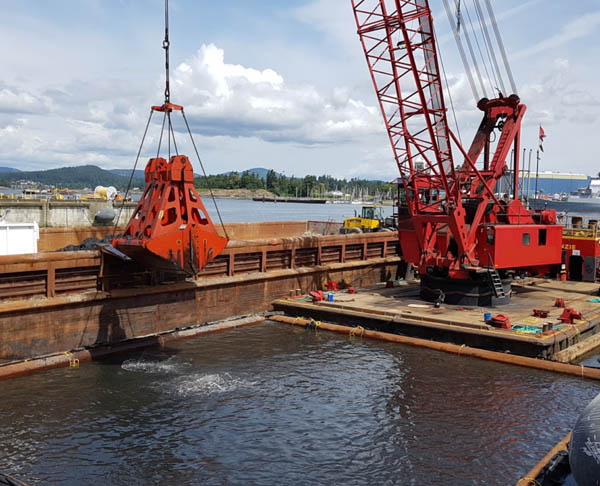 REINVEST: Financing, Risk Management and Partnerships
Esquimalt Harbour Marine Remediation – Victoria, British Columbia
The is a $162.5 million Esquimalt Harbour Marine Remediation project was initiated to address harbour seabed sediments that had been contaminated by historical commercial and military operations. The purpose was to regenerate the health of the harbour through the disposal of more than 40,000 cubic meters of material and debris contaminated with various chemicals of concern. In addition, the work involved retrieval of archaeological artifacts and potential unexploded ordinance (UXO) from the harbour. Located in the traditional territory of the Lekwungen People of the Coast Salish Nation, known today as the Esquimalt and Songhees Nations, a key aspect of the project was the creation of an Indigenous Benefits Plan (IBP) to create meaningful business development and socio-economic outcomes and procurement of goods and services from Indigenous-owned companies for the members of both Nations.
With a focus on building relationships, mentorship, and skills development this project provided additional community benefits to the Esquimalt and Songhees Nations as well as to members of other First Nations, with the facilitation of additional training courses, cultural and educational events, mentorship, and charitable donations within the community.
Project Team: Milestone Environmental Contracting Inc.; Public Services and Procurement Canada; Department of National Defence; Esquimalt First Nation; Songhees First Nation; Salish Sea Industrial Services; and, Ralmax.
REFOCUS: Alternative Benefits to Brownfield Remediation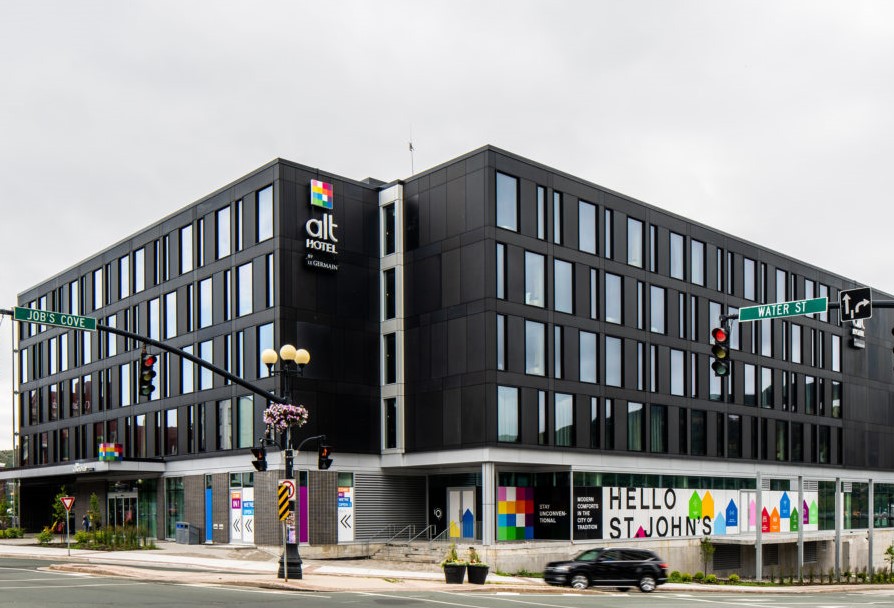 Development of a Vacant Contaminated Site into a Sustainable Eco-Friendly Hotel – St. John's, Newfoundland
This redevelopment of a brownfield site as a hotel designed through a sustainability lens with eco-friendly principles aligns with broader social initiatives and mandates beyond just brownfield redevelopment via:
Applying a unique prefabricated modular approach to the redevelopment that significantly reduced environmental impacts associated with waste, air, water, and noise pollution;
Including ecologically sustainable features such as geothermal heating and cooling powered by the ocean, innovative heat recovery systems, and automated central switches;
Preserving the history of the area by putting materials from a historic building that previously existed at the site on display in the lobby of the hotel with old photos that document the history of the site;
Facilitating the revitalization of the local economy and community, while also supporting the burgeoning focus on reducing environmental impact.
Project Team: Groupe Germain (owner) and Stantec Consulting Ltd. (consulting services for environmental site assessment, risk assessment, and remediation).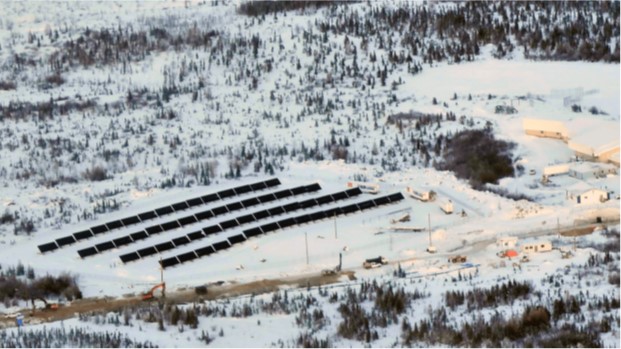 Northlands Dënesųłiné First Nation– Lac Brochet, Manitoba
The Northlands Dënesųłiné First Nation (NDFN) project encapsulates this category in its many themes: energy sovereignty, economic independence, environmental protection, climate change resiliency, and environmental racism. This one-of-a-kind project could shape the future of remediation on Indigenous lands by dismantling the colonial systems through energy sovereignty and economic security. The concepts are transferable to many other nations with NDFN leading the capacity building in other communities. This brownfield project creates a new benchmark for innovative remediation projects in including provisions to avoid future contamination.
The environmental remediation was one aspect of a broader scope with the aim of having the northern isolated community divest from using diesel power as a primary source for heating and power generation, and installing solar, biomass, and geothermal heating systems. One of the main outcomes of this project was to empower residents to take a leadership role in the execution of the environmental remediation and the management of alternative energy in their community.
Project Team: Milestone Environmental (general superintendent), Boke Consulting (recycling and energy systems), NDL Construction (general contractor), Vertex Environmental Inc., and Aski Geoscience Ltd.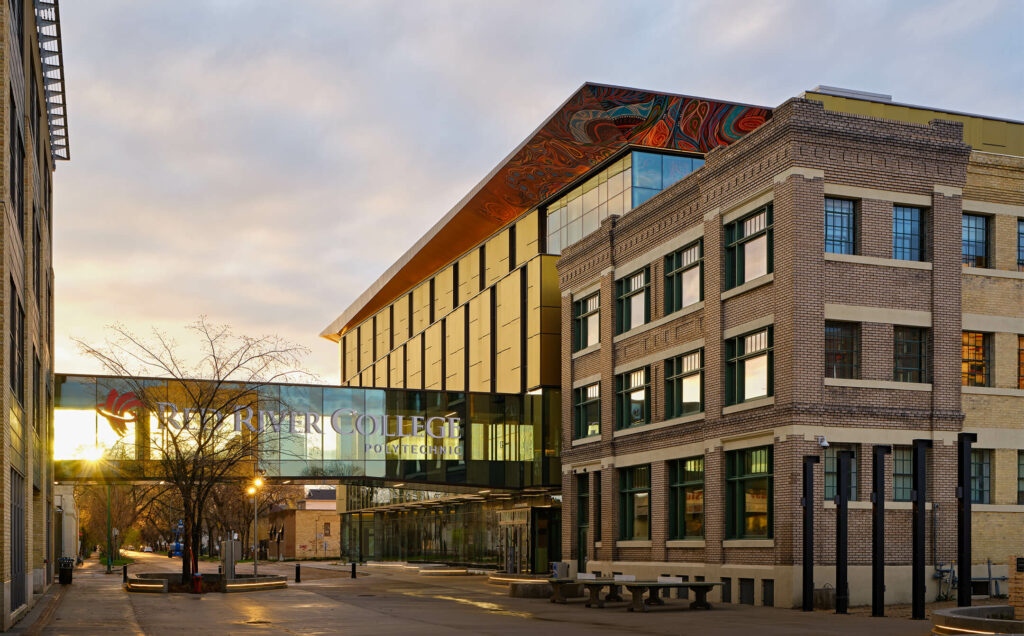 REBUILD: Redevelopment at the Local, Site Scale
Manitou a bi Bii daziigae, Red River College (RRC) Polytech
– Winnipeg, Manitoba
Site-specific built elements of Manitou a bi Bii daziigae and the programs housed within address multiple criteria of this category:
Through initial construction and ongoing use, the project brings economic, social and environmental benefits that accelerate the pace of regeneration within Winnipeg's urban heart.
Transparency and indigenous artwork promote an enhanced public realm and welcome new learners, connecting exterior to activities within. Light-filled spaces link new and heritage structures; innovative photovoltaic cladding provides a renewable source of energy on-site.
The project has come about through extensive coordination with City of Winnipeg public works, planning property and development, legal, forestry, parking, and heritage authorities.
Project Team: Diamond Schmitt and Number TEN Architectural Group (architects); Crosier Kilgour (structural); Epp Siepman Engineering (mechanical); SMS Engineering (electrical); HTFC Planning & Design (landscape); KC Adams (roundhouse auditorium artwork) and Jackie Traverse (soffit); Akman Construction (contractor); WSP (civil engineering and traffic consultant); RDH Building Science (sustainability, envelope and energy modelling); SolarLab (PV cladding design assist and fabrication); Aercoustics (acoustics); Entro Communications (signage); LMDG (building code consultant); LG Cost Consulting (finance); and doublespace (photographer).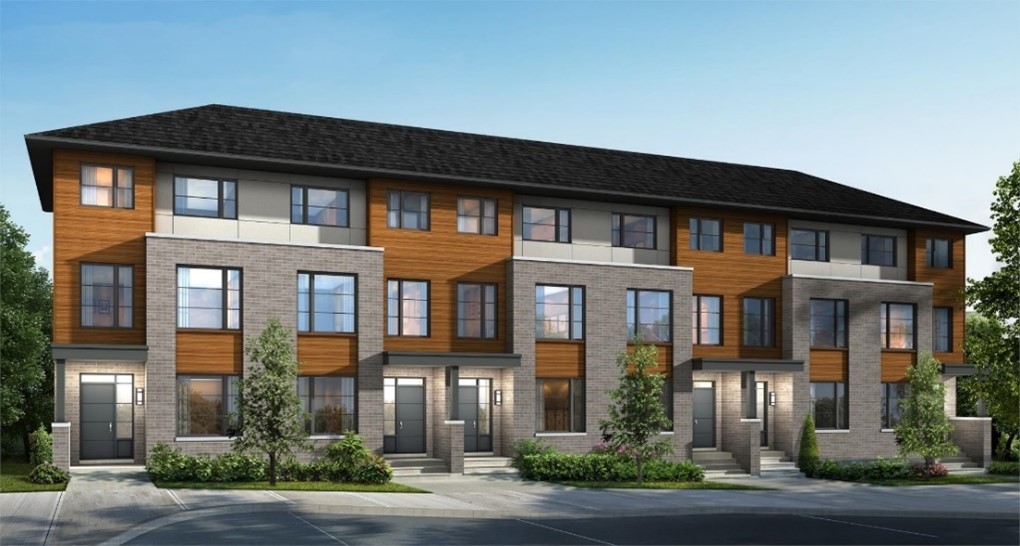 RENEW: Development at the Community Scale
120 Huron Street – Guelph, Ontario
This project involves the redevelopment of vacant, former industrial land as obtainable housing, and demonstrates excellence in redevelopment at the neighbourhood scale by:
Acting as a stimulus for neighbourhood-scale redevelopment and reinvestment, inspiring multiple investors to work collaboratively towards a common site vision via a multi-phased, coordinated construction approach;
Promoting an enhanced public realm by addressing a neighbourhood eye-sore with a design approach that recognizes and respects the industrial heritage of the surrounding community, and has facilitated the adaptive reuse of the property's heritage building;
Developing a comprehensive site plan with complimentary design elements that extend across the entire parcel, addressing potential access issues for the different stakeholder properties, establishing pedestrian routes that connect the amenity areas, and constructing infrastructure that could be accessed by the other investors/builders; and
Addressing specific housing needs in the City of Guelph, providing much needed obtainable residential housing focused on the "missing middle."
Project Team: Bomar Landscaping, CHC Limited, Chung & Vander Doelen Engineering Ltd., DEI Consulting Engineers, GHD, GM BluePlan, GSP Group, Hycon Construction, JLP Geotechnical & Environmental Consultants, Kieswetter Excavating, Peritus Environmental Consultants, Martin Simmons Architects, Progressive Irrigation, Robson Carpenter LLP, Stantec Consulting, Van Harten Surveying Inc., and Zehr Group.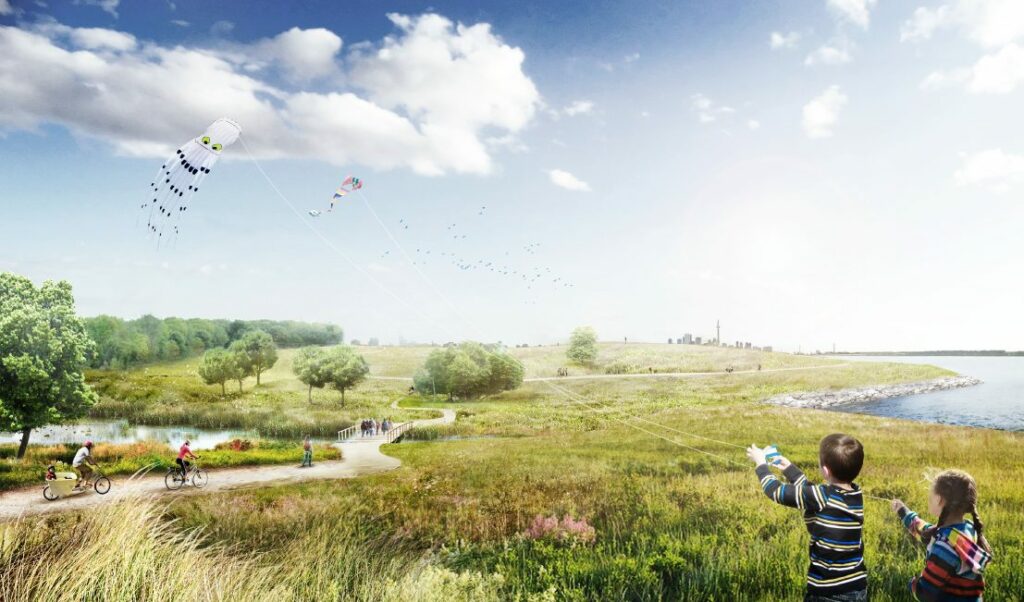 REACH OUT: Communications, Marketing and Public Engagement
Jim Tovey Lakeview Conservation Area – Mississauga, Ontario
The JTLCA project (Jim Tovey Lakeview Conservation Area, in honour of the late Ward 1 City of Mississauga Councillor) is creating a new natural waterfront park adjacent to the G.E. Booth Wastewater Treatment Plant. The project was initiated to reverse historical losses by creating a 26-hectare greenspace featuring large coastal wetlands, meadows, beach and forested habitats as well as an enhanced shoreline for residents, wildlife including migratory species and fish. The project combines fiscal responsibility (creation of jobs, sustainable reuse of fill) with habitat creation and engagement with the community, including:
Public Information Centres that provided an opportunity to inform the public about the project and capture feedback from those who visited.
Engagement with the Mississaugas of the Credit First Nation, the treaty holders for the lands and waters, regarding detailed design including Indigenous Placemaking features.
A direct email channel, through the project website, for questions or comments. There is a feature on the project website that provides a sign-up option, to receive project updates and get involved with the project.
Project Team: Credit Valley Conservation, Toronto and Region Conservation Authority, Region of Peel, and City of Mississauga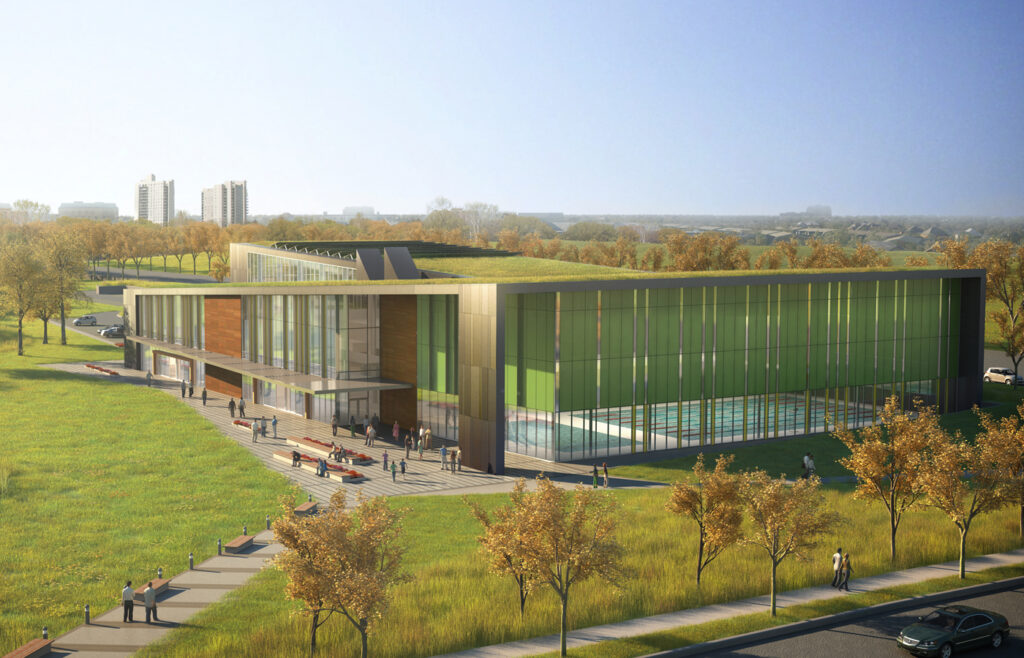 BEST SMALL PROJECT
York Recreation Centre – Toronto, Ontario
This project resulted in the transformation of a rarely used ball diamond on a residual piece of land. The property had poor access, little exposure and was not well suited to recreational use. However, it was ideally located to serve three lower income neighbourhoods that surround the site. As a result, this spurred the idea for a recreation centre that could be a hub empowering community life and connecting neighbours. The project team took the opportunity to reimagine a new zone of the city as a vibrant beacon for community renewal and a catalyst for urban growth. A large green roof serves as a prominent feature, which also doubles as a rainwater collector and sunlight harvester. Remediation of the site involved the installation of an underfloor venting system to exhaust methane in the soil, indigenous drought resistant plantings, and extensive bio-swales at parking areas. The building employs smart lighting systems, heat recovery from the pool dehumidification system, and a high-performance envelope.  The project employs several energy and water conservation features in its design, which has attained Toronto Green Standards certification.
Project Team: Perkins&Will (design principal, manager and contract administration and captain); Jared Cardiff (specifications); Entuitive (structural consultant); Smith + Anderson (mechanical consultant); MBII (electrical consultant); WSP (civil engineer); Fleisher Ridout (landscape design); Aercoustics Engineering (acoustical consultant); Turner & Townsend (cost consultant); and City of Toronto.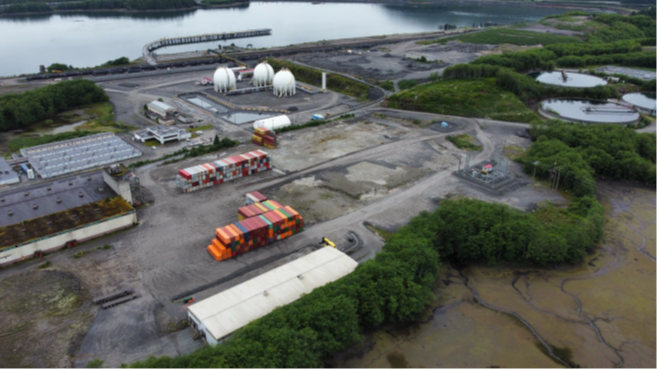 BEST LARGE PROJECT
Watson Island Redevelopment – Prince Rupert, British Columbia
Since 1955, Watson Island operated as a pulp mill facility until market conditions forced its closure in 2001. Although there were unsuccessful attempts to restart the mill, the site remained unused until its decommissioning and demolition in 2015. Due to financial hardships the mill went through several owners, prior to the city becoming the unwilling owner in 2009 through tax sale legislation. The site has been considered a liability and was a significant holding cost for the municipality since its abandonment due to its numerous environmental risks and hazards, including over 100 vessels of unknown condition and 15 million liters of fluid waste from the pulping process.
The local government collaborated with the project team and BC Ministry of Environment and Climate Change Strategy to develop a remediation plan to redevelop the land, paying close attention to environmental and economic outcomes and minimizing logistics concerns. By retaining the land, which was transferred to the city's wholly owned subsidiary, Prince Rupert Legacy Inc., the City of Prince Rupert is creating an economic opportunity for the citizens of Prince Rupert that will serve as a precedent for future brownfield projects. The large and complex site was broken into manageable sections to lease to proponents, who have led remediation efforts, managed by the city and their development arm. Approximately 95 per cent of all materials were recycled during the demolition, with maximum reuse of equipment and supplies and minimal cost to the city.
Project Team: City of Prince Rupert, Prince Rupert Legacy Inc., McElhanney Ltd., and Trillium Environmental Ltd.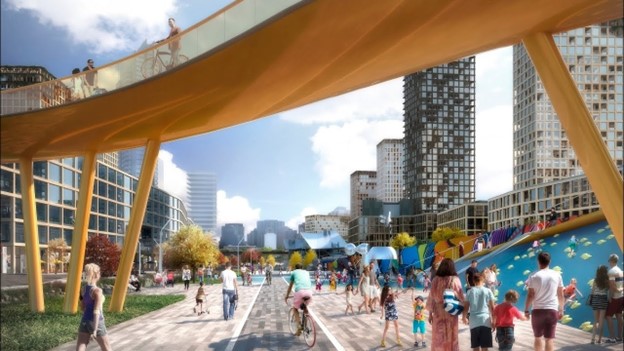 BEST OVERALL PROJECT
LeBreton Flats – Ottawa, Ontario
The redevelopment of LeBreton Flats began with extensive decontamination of the soil and the construction of the Canadian War Museum in 2005. Soon after, new residents moved into the first new residential buildings in the area. The Building LeBreton project is founded on important public and economic benefits. These include providing affordable housing, remediation of contaminated soil, development of an exciting new destination, creation of parks and public spaces, and supporting transit use and active transportation. The LeBreton Flats area will become home to up to 7,500 residents and 4,000 workers, and is the result of a multi-decade vision to transform this important 29-hectare site into a complete urban community and Capital destination. Based on a study commissioned by the NCC, it is estimated that construction spending over 30 years will contribute about $13.2 billion to the Canadian economy, generating millions in taxes each year.
Project Team: National Capital Commission (project sponsor); O2 Planning and Design (lead consultant) and sub-Consultants: Paterson Group, L'Atelier Urbain, CIMA+, Contentworks, Three Sixty Collective, N. Barry Lyon Consultants Ltd., Urban Equation, and Morrison Hershfield.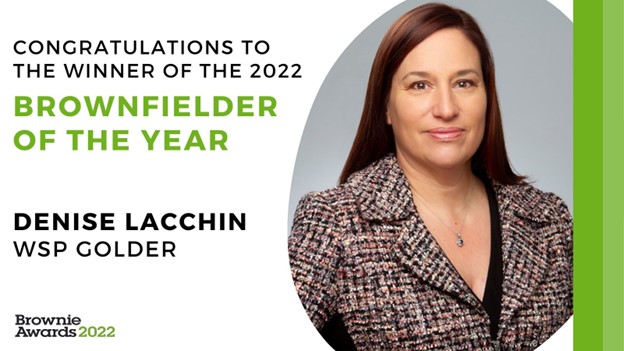 BROWNFIELDER OF THE YEAR
If you work in the environment sector in Ontario, at some point, you've heard the name Denise Lacchin.
For almost three decades, she has been a stalwart supporter of the province's environment industry and, more specifically, the brownfield sector. Her professional journey has brought her to several of Canada's largest environmental services firms, each time gaining invaluable knowledge of the company's best practices and industry expertise that would help her succeed in her next role.
During her career, Lacchin has successfully worked with clients in assessing environmental impacts on numerous brownfield properties, ones contaminated with petroleum hydrocarbons (PHCs), inorganics and metals, chlorinated solvents, and low-level radioactive waste (LLRW). She is also an expert in developing strategies for excess soil reuse and remediation that complements their redevelopment objectives.
Her peers know she has been a driving force for the environment sector, doing whatever she can to share her expertise in any forum. Whether it's a discussion through her involvement as a member of the Board of the Ontario Environment Industry Association, a conversation at an industry-led conference or webinar, or a chat with a colleague over the phone, she has done whatever she can to share her knowledge of the sector with anyone who can benefit from it. Thanks to her passion for the Canadian brownfield sector, many in our industry have learned from Lacchin.
"I've been attending the Brownie Awards since its inception in 2001," said Lacchin. "Tonight I look around this room and I see so many faces that were there that day and have been recipients of the Brownie Awards and never would I have thought back then that I would be up here receiving this award myself."
Featured image: 2022 Best Small Project – York Recreation Centre.