The Alberta government is spending $3 billion over three years to extend the life of key provincial infrastructure across Alberta.
With nearly $300 million more than in Budget 2020, capital maintenance and renewal (CMR) funding fixes potholes, resurfaces roads, repairs bridges, and upgrades and maintains critical education and health buildings.
Budget 2021 places a significant focus on maintaining existing capital assets, creating more than 7,500 jobs on more than 260 projects to maintain and improve the condition of Alberta's highways and bridges.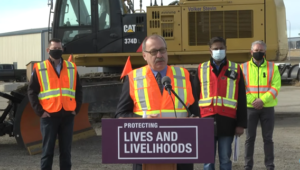 Government of Alberta news conference on Budget 2021 features Minister of Transportation Ric McIver and Minister of Infrastructure Prasad Panda.
"Our priority is to create thousands of jobs now by fixing potholes and bridges and roads so Albertans can travel safer and so we can get our goods to market more efficiently," said Ric McIver, Alberta's Minister of Transportation. "Extending the life of infrastructure reduces replacement costs in the future. Budget 2021 makes sure Albertans can continue to be proud of their highways."
Alberta Transportation's $1.5-billion capital maintenance and renewal budget includes:
$245 million for bridge construction
$1.2 billion for highway rehabilitation, which includes provincial highway network rehabilitation, passing/climbing lanes, LED retrofit program, wildlife program and safety improvement work across Alberta
"Capital maintenance and renewal projects are creating jobs across the province while preserving our public infrastructure," said Prasad Panda, Alberta's Minister of Infrastructure. "While these projects aren't always the most glamorous, repairing leaky roofs and replacing boilers are getting Albertans working and extending the life of key infrastructure."
Capital maintenance and renewal projects will begin in every region of the province and include:
$343 million for health facilities to cover costs associated with repairs, upgrades, maintenance and replacement of building systems and building service equipment in more than 1,000 facilities owned or leased by Alberta Health Services.
$337 million to assist with maintaining facilities at publicly funded post-secondary institutions.
$321 million for government-owned facilities to maintain the courthouses, provincial buildings, housing, post-secondary institutions, health facilities, education and cultural facilities where government programs and supports are administered and delivered daily. Of this, $203 million will go to school jurisdictions to ensure the health and safety of students and staff. This may include life-cycle replacement of building systems such as mechanical and electrical systems (boilers, plumbing, etc.), building envelope (roofs, windows or door replacement/upgrades) and other system maintenance requirements.
$97 million for provincial park modernization, trail maintenance, enhancement and development, wastewater treatment facility replacement, shower building replacements, washroom replacement, building and trail accessibility upgrades, life-cycle repair and equipment maintenance.
$95 million for renovations and emergency repairs to the 58,250 affordable housing units that serve more than 110,000 Albertans

Projects include replacing or repairing boilers, elevators, HVAC units, electrical and safety systems, siding, windows, roofing, and more.

$50 million for information technology to ensure reliable access to critical services for Albertans by modernizing or replacing internal and public-facing applications and supporting infrastructure, such as servers, storage, network and other hardware.
$6 million for innovation infrastructure maintenance, which provides Alberta Innovates, InnoTech Alberta and the Alberta Centre for Advanced Micro- and Nanotechnology Products (ACAMP) with the ability to maintain/renew aging infrastructure and the unique testing facilities for later stage scaling and commercialization of Alberta-based technologies.
$2 million to supplement existing tarmac and facilities maintenance initiatives at Alberta's 13 air tanker bases.
$2 million for the fish culture capital maintenance and renewal program, such as capital repairs and maintenance at Alberta's four fish culture facilities – the Raven Creek and Allison Creek brood stations, and the Sam Livingstone and Cold Lake fish hatcheries.