The government of Canada and the City of Ottawa announced joint funding for a new pathway for pedestrians and cyclists on the Chief William Commanda Bridge, connecting Ottawa and Gatineau. (William Commanda served as Band Chief of the Kitigàn-zìbì Anishinàbeg First Nation from 1951 to 1970 and was an Algonquin elder, spiritual leader, and promoter of environmental stewardship.)
The Government of Canada is investing over $8.6 million in this project through the Public Transit Infrastructure Stream (PTIS) of the Investing in Canada plan. The City of Ottawa is contributing approximately $13.9 million towards the pathway and the structural integrity of the bridge and its piers.
"Transforming the Chief William Commanda bridge into an active transportation crossing will not only link the communities of Ottawa and Gatineau including to Lebreton Flats, it will reduce commute times and provide exciting new opportunities for cyclists and pedestrians who live work and play on both sides of the Ottawa River," stated Catherine McKenna, Federal Minister of Infrastructure and Communities.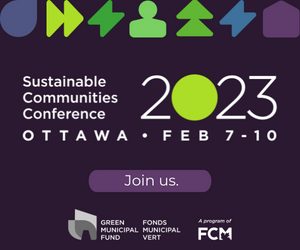 The project involves the construction of a new timber deck on top of the existing rail track ties, creating a pathway on the south structure of the bridge, which spans from the Ottawa shore to Lemieux Island, as well as on the north structure, which spans from Lemieux Island to the Gatineau shore. A steel cable railing system and lighting will be installed, and the bridge's major structural components will be rehabilitated to ensure safety and accessibility for all users.
Additional work will include the construction of three new multi-use path segments linking the south approach of the bridge to the City of Ottawa's Trillium Pathway, linking the north and south bridge structures across Lemieux Island, and linking the north approach to the NCC Voyageurs' Pathway in Gatineau. New lighting with high efficiency LED light sources will be installed along the pathway, as well as approximately 12 new benches which will serve as rest areas.
Once completed, the bridge will serve as a vital active transportation corridor linking residents of Ottawa and Gatineau to a network of pathways and public transit on both sides of the Ottawa river, providing them with more commuting options that reduce emissions and protect the environment.
"Transforming this decommissioned bridge into an active transportation corridor for pedestrians, cyclists and cross-country skiers will link an extensive network of pathways on both sides of the Ottawa River and connect communities in Gatineau and Ottawa," added Ottawa Mayor Jim Watson.
Featured image: An artist's rendering of the proposed multi-use pathway on the newly renamed Chief William Commanda Bridge over the Ottawa River. A $22.6 million refurbishment would turn the defunct rail bridge into an active transportation corridor. (City of Ottawa)