The largest-ever donation to George Brown College paved the way for a groundbreaking event, supporting the ongoing Waterfront Campus expansion with an Ontario first – a tall-wood, mass-timber, net-zero carbon emissions, 10-storey institutional building.
The $10-million donation from Canadian philanthropist, Jack Cockwell builds upon his previous $8-million donation, making it the largest donation to an Ontario college by a single donor. Cockwell's donation will fund Limberlost Place, a visually stunning new learning facility constructed with mass timber components sourced in Canada.
"This signature building not only represents an important addition to George Brown's waterfront campus, but also signifies its strong commitment to sustainable development with its innovative design and extensive use of natural building materials. We are pleased to have had the opportunity to play a small part in the building of Limberlost Place, and hope that future generations will benefit from the enhanced education, knowledge and innovation it will serve to facilitate," said Cockwell.
Inspired by Limberlost Forest and Wildlife Reserve in Huntsville, ON, the building will house the college's School of Computer Technology, School of Architectural Studies, and a new childcare facility. It will also be the new home of the Brookfield Sustainability Institute – a hub for innovative research and programming connected to industry. Limberlost Place will help to future-proof the economy and prepare the workforce for climate change. It will also dedicate space to Truth and Reconciliation and to celebrating and recognizing Indigenous culture.
The unique wood-based structure features the strength of a traditional steel and concrete building with a fraction of the carbon footprint, harnessing the power of the sun and Lake Ontario. No fossil fuels will be used to heat or cool the building. Limberlost Place will include solar chimney systems, rooftop photovoltaics and deep-water cooling.
Designed by award-winning firms Moriyama & Teshima Architects and Acton Ostry Architects, Limberlost Place will be a 10-storey, 175,000 square foot, mass timber structure. It will have an emphasis on exposed timber elements while its unique design evolves from traditional post-and-beam construction. Limberlost will be comprised of 15,514 cubic metres of mass timber products sourced from sustainably managed forest.
George Brown will partner with PCL Construction. PCL expects to employ 339 people for this project, including 15 George Brown College students or alumni. This will be PCL's largest mass timber project to date.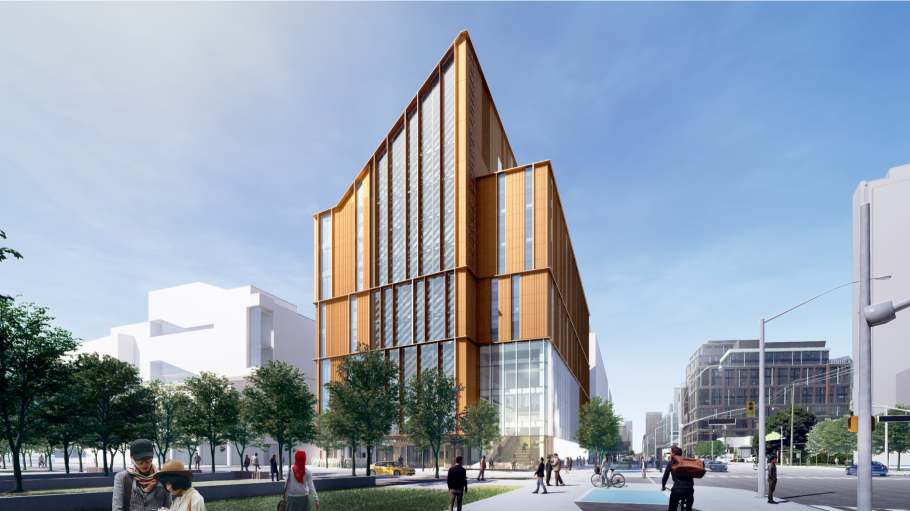 "We are grateful to Mr. Cockwell for his incredibly generous donation that will allow us to build this impressive new centre for learning and deepen George Brown College's commitment as a community-builder," said Dr. Gervan Fearon, President of George Brown College. "Limberlost Place highlights the future leadership role George Brown will play in the city's Waterfront development as a sustainable city. This stylish addition to the city skyline will add to the vitality and modernization of Toronto's beautiful waterfront, and will help George Brown students to work, study, learn, and grow. We welcome students from around the world and we are excited to have them experience a uniquely Canadian building."
"The financial gift itself is remarkable and reflects a true commitment to community. Seeing it used to develop Ontario's first ever mass timber institutional building makes it exceptionally unique. Education is key to a positive future and a strong economy," said Minister Dunlop.
"This is an exciting moment for Toronto as we continue the hard work to rebuild our city post-pandemic. The new Limberlost Place will not only add to our growing waterfront, and to George Brown's already established reputation, but will help us move further in our climate action goals with its net-zero carbon emissions. This expansion and new building will bring in new jobs, new students and much more and I look forward to seeing it along our waterfront. Thank you to Jack Cockwell for his generous donation and for making this possible – people like Jack are city builders who share the same goals of making our city a better place for everyone," said Mayor John Tory.
President of the George Brown College Foundation, Dr. Cindy Gouveia stated, "The George Brown College Foundation is grateful for the thought leadership exhibited by donors like Jack Cockwell. This mass timber building will stand as tangible testament to the positive impact on communities that can be achieved through philanthropy."
The landmark structure is designed to adjust to changing academic uses and is scheduled to be completed by summer 2024.
Featured image: (George Brown College)