The work of Canadian consulting engineering firms was celebrated as twenty projects were recognized for their technical excellence and their contributions to society during the 2023 Canadian Consulting Engineering Awards (CCEA).
In addition to the Award of Excellence winners, five of the 20 projects were presented Special Awards that best demonstrated: technical innovation (Schreyer Award), dedication to the environment (Breton Environmental Award), Canadian expertise abroad (Ambassador Award); how engineering enhances Canadians' social, economic, or cultural quality of life (Engineering a Better Canada Award) and a firm's benefiting their community (Outreach Award). Winners were selected by an independent jury of distinguished experts from varied backgrounds.
Now in their 55th year, the CCEA, are produced jointly by Canadian Consulting Engineer
magazine and the Association of Consulting Engineering Companies–Canada (ACEC-Canada). CCEA are recognized as the industry's highest honours, presented to projects by Canadian consulting engineering firms that illustrate the most remarkable engineering feats.
"These awards showcase incredible projects and accomplishments by consulting engineering firms across Canada," said ACEC-Canada president and CEO John Gamble. "They demonstrate how ACEC members use ingenuity and innovation to connect communities, grow the economy, and improve safety and sustainability. The impacts and benefits of their work are long-lasting, often immeasurable, and deserve to be celebrated."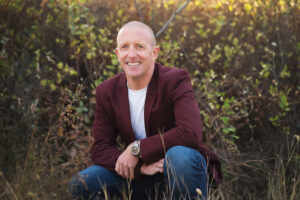 Two individual awards were also presented. The 2023 Beaubien Award for lifetime achievement which was presented to Leon Botham, MSCE, P.E., P.Eng., FEC, FGC (Hon.) of NewFields. The 2024 Allen D. Williams scholarship, recognizing a young professional's commitment to consulting engineering, was awarded to Rahim Ahmad, P.Eng., of Associated Engineering.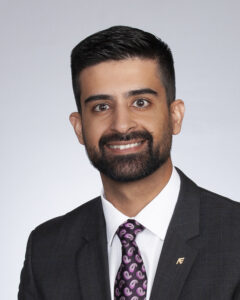 The Schreyer Award 
K3 Project – South Shaft Headframe – Hatch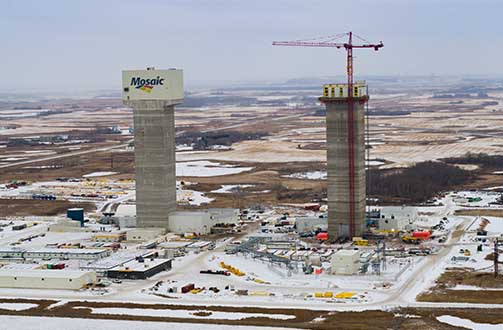 Mosaic's new potash mine was designed and constructed with state-of-the-art modularization techniques and a focus on improrved execution and operation efficiency. Hatch, who managed the engineering and construction of the shafts, headframes, and hoisting systems, developed solutions that would minimize construction timelines. The south shaft headframe structure, with over 342 embedded plates, 43 block-outs, and 3 million lbs of rebar, was one of the most complex slipforms ever performed. Every hour, over 2.5 tons of reinforcement was installed, and every day, 24 hours a day, over 225 m3 of concrete was poured. The team had to execute the construction during the pandemic, coordinating the mobilization of expertise from key resources across closed international borders. In comparison to conventional stick-built construction, the project modularization and innovative approaches provided important safety and production advantages, including: a significant reduction of direct hours working at height; a reduced risk for falling objects; over 12 months of scheduling savings; and significant execution costs savings.
Engineering a Better Canada Award
Library and Archives Canada's Preservation Storage Facility – Stantec Consulting Ltd.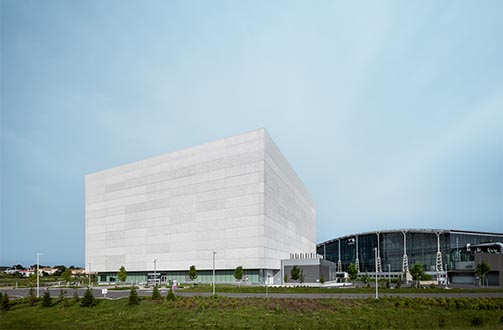 Library and Archives Canada wanted a sophisticated, eco-responsible building with a life expectancy of 500 years under a P3 procurement method. Stantec, commissioned as the private partner engineer, was able to create a new six-vault building with controlled environments, operated by an automated storage and retrieval system. With motorized cranes generating heat and the risk of air stratification, collaborative work with ASRS (robot) supplier, computational fluid dynamics simulations and commissioning professionals resulted in a controlled museum environment that sets the benchmark in the field. Innovative solutions, including improved refrigerant management and robot braking energy recovery, contributed to the achievement of the highest standards of sustainable development that exceeded the customer's expectations.
Breton Environmental Award
Standing column wells/Clé-des-Champs elementary school – gbi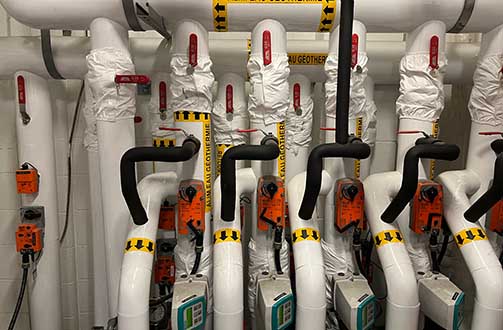 gbi's mandate was to replace the heating, ventilation and air conditioning systems at a school in the Centre de services scolaires des Mille-Îles. In collaboration with the customer, it was decided to test the idea of standing column wells (SCW), a technology being researched by Polytechnique Montréal. With SCW, only 5 x 135 m pumping wells and 1 injection well were required, rather than 22 x 150 m closed-loop wells, reducing the initial investment by 40%. The project resulted in a reduction by 99 % of greenhouse gas emissions compared to the existing building, by 80 % of the peak electrical power demand compared to electric resistive heating system and by 42% the energy consumption compared to the existing system. SCW make it possible to reconcile the paradox that exists between decarbonizing buildings and managing the demand for power on the electrical grid.
Ambassador Award
REFAM project – Geoportal and predictive model of argan production – WSP Canada and Cowater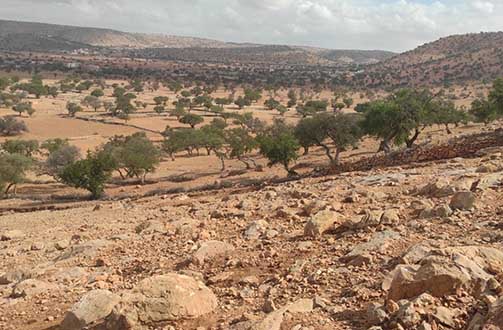 The "Economic reinforcement of women in the argan industry in Morocco" project was conceived by Cowater International, with financial assistance from the Government of Canada, including Global Affairs Canada. WSP designed and implemented a geographic information system (GIS) and a predictive model ("Géoportail") for managing and forecasting the production of this fruit. The project charter required that the solution should eventually be taken over by the industry and the Agence Nationale pour le Développement des Zones Oasiennes et de l'Arganier (ANDZOA), which was involved in every stage of the project. Based on Quebec forestry expertise, an experimental network of sample plots was set up to provide a set of characteristics for the argan grove area. These observations, coupled with deep learning techniques, enabled the development of a predictive model of argan production adapted to environmental factors and Moroccan reality. Weekly "hands-on" meetings were set up to enable the integration of new data and the configuration of the tool. Guides and videos were then produced to document various processes and technologies. Virtual sessions and workshops, culminating in the Moroccan technical team's visit to Canada, ensured effective ownership of the solution by the partner. Thanks to the final product developed, called "Geoportal of the Arganeraie Biosphere Reserve", the WSP team, with the support of Cowater and ANDZOA, has helped give greater visibility to production and greater economic autonomy to women working in this sector.
Outreach Award
Million Meals Campaign – Dillion Consulting Limited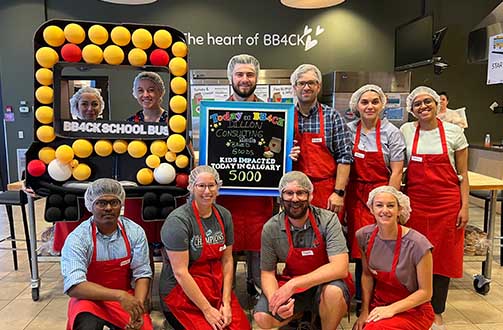 Dillon, as a signatory to the United Nations Global Compact, launched The Million Meals Campaign to help sustainably combat food insecurity across Canada and support the UN's Sustainable Development goal #2 – zero hunger. The project's goal was to provide the equivalent of one million meals throughout the communities where the Dillon team live and work. The campaign focused on targeting root causes of food insecurity to contribute to a transformation of the system for generations. In addition to donating food and volunteering time, to further support this initiative and expand its reach, Dillon solicited proposals from non-profits. Nine food organizations were awarded in-kind pro bono consulting services to further the impact of their work and remove food access barriers in their communities. In March 2022, Dillon met their goal, supporting over 250 organizations across Canada with pro bono projects, direct food donations, and both corporately sponsored and personal volunteer time.
AWARDS OF EXCELLENCE
Centerm Expansion Project – Hatch Ltd.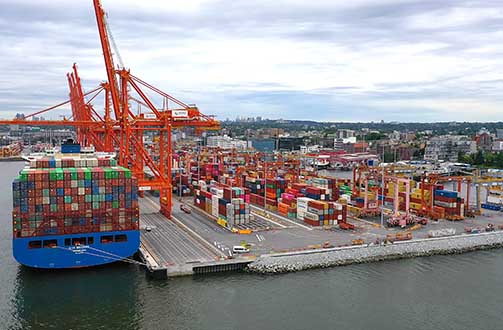 The Vancouver Fraser Port Authority issued a design-build contract where Hatch was engaged as the prime design consultant to lead a skilled team to execute the Centerm Expansion Project to support greener operation and increase throughput. It comprised expansion, reconfiguration, and additional infrastructure to the existing terminal, located on a brownfield site that had undergone decades of prior development and was to remain fully operational during construction. The terminal's footprint was expanded by 15% through land reclamation. Among many innovative solutions, slip formed floatable caissons were designed for berth extension, eleven existing four to five story refrigerated container storage towers were relocated to save cost and reduce waste, and an historic former shed most recently used as a cruise ship terminal was refurbished to a state-of-the-art operations centre. The project, in conjunction with associated improvements to road and rail infrastructure, provides a 67% increase in terminal throughput and was awarded Envision Platinum from the Institute of Sustainable Infrastructure.
Tank Hill Emergency Restoration – AECOM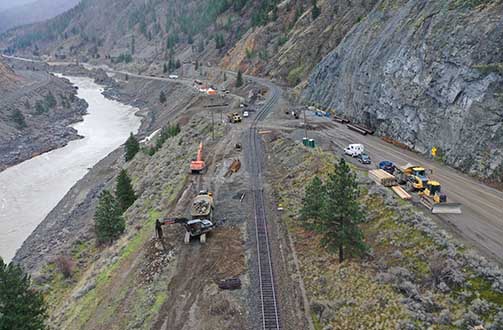 After severe storms destroyed road and rail infrastructure near the Village of Lytton, AECOM provided emergency assistance to the British Columbia Ministry of Transportation and Infrastructure to reinstate the Trans-Canada Highway at the Tank Hill underpass. A team of specialists and senior staff from across western Canada was quickly mobilized to design an interim road and at-grade railroad crossing to replace the unsalvageable grade separation structure. Within two days, the team was on-site with multiple contractors working round-the-clock to support the reconstruction in the coldest weather to hit the region in years. AECOM's swift and effective response ensured a project that would typically take months was successfully completed in eight weeks, quickly restoring connectivity between local communities.
New entrance building at Vendôme metro station and pedestrian link to the MUHC – AtkinsRéalis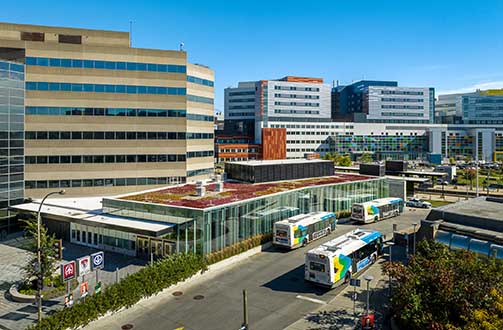 AtkinsRéalis was mandated to provide multidisciplinary engineering for the construction of a new entrance building at the Vendôme metro station. It includes a new underground corridor connecting this entryway with new accesses to the metro station, exo's commuter train station and the McGill University Health Centre. To abide by the 72-hour train service disruption periods, six meters of this tunnel was installed in four prefabricated sections, and another 12-meter section (650-ton) was cast in place and pushed to its final location by computer-assisted hydraulic jacks. The station is now equipped with five elevators, enlarged motorized doors and swing gates, thus enhancing the travelling experience for all users, especially those with reduced mobility. The new facilities have the unanimous approval of all involved stakeholders, as they provide a fluid and accessible link between the Vendôme multimodal hub and the nearby hospital complex.
Port Saint John Westside Modernization Project – Hatch and Dillon Consulting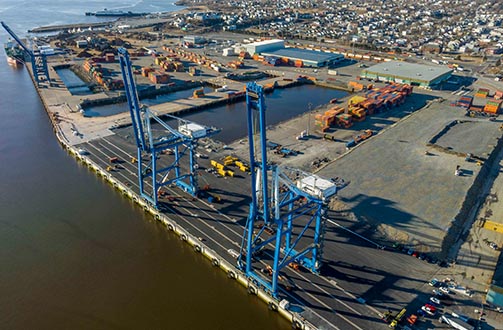 Port Saint John undertook the Westside Modernization Project to expand its container terminal and intermodal capacity. Hatch and Dillon Consulting were engaged to develop scalable infrastructure while maintaining port operations. The team considered the long-term outlook for the project and designed adaptable infrastructure, including a new scalable intermodal rail yard, a fully automated truck gate and a new berth that simultaneously accommodates an existing 100-foot and new 50-foot gauge crane. The container berth's construction was also completed in tides ranging more than 8 meters which posed major design and operational challenges. The innovative infrastructure design has made Port Saint John the fastest-growing container terminal in North America and will accommodate high capacities for years to come, resulting in lasting positive impacts for New Brunswick's economy.
Nancy Pauw Bridge – StructureCraft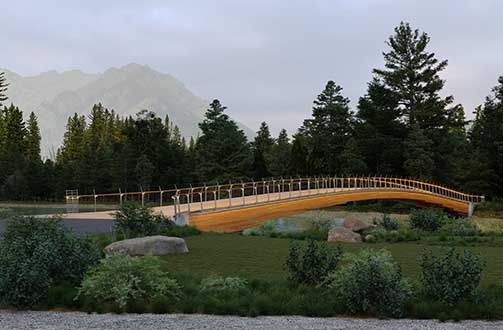 Responding to the Town of Banff's desire for a bridge that is natural and unobtrusive in its context, StructureCraft designed and built the Nancy Pauw Bridge out of sustainable timber, creating a shallow, high-thrust arch that appears effortless as it spans the pristine Bow River in the town. The 80m clear span and shallow profile were necessary to minimize environmental impact, provide flood condition clearance, and limit ramp intrusion into adjacent park lands – all while preserving unhindered views of the beautiful Rocky Mountain setting. The solution was an extremely shallow arch with a nearly impossible rise to span ratio of only 1 to 20. The most difficult aspect of the slender design was addressing vibration performance, which was resolved with a single central tuned mass damper tuned for walking and jogging frequencies. The project was delivered under budget and ahead of schedule using an all-inclusive Design-Build delivery model. 
Waaban Crossing (formerly Kingston Third Crossing) – Hatch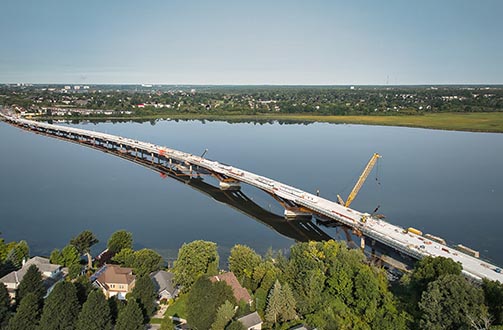 The City of Kingston implemented the Kingston Third (Wabaan) Crossing project using an Integrated Project Delivery model, signing a four-party contract with Hatch as one of the designers. The first time the IPD model was used in North America for a bridge, it allowed the team of owner, designer, and contractor to collaborate to modify the bridge concept in the environmental assessment, to complete the project within the $180M budget, meet the city's vision for the project, and mitigate adverse environmental impacts on the river. The new crossing brings meaningful environmental benefits, reducing vehicular travel by 60 million kilometres per year and reducing greenhouse gas emissions by approximately 14,000 tones per year.
Woodworth Dam Optimization – BBA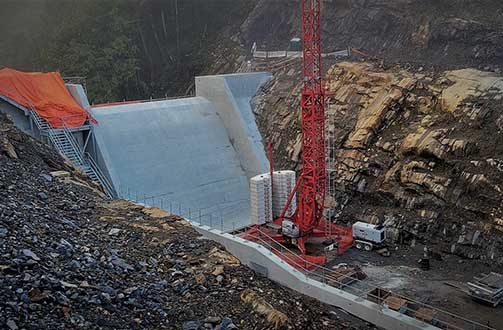 The City of Prince Rupert, which had been under a boil water advisory for a number of years, needed to replace the aging Woodworth Dam. It was a critical undertaking, as the 100-year-old infrastructure serves as a reservoir and water source for the community. The city turned to Austin Engineering, now BBA, to optimize the dam redesign, help secure the project and make it a state-of-the-art freshwater distribution facility. By undertaking a comprehensive value engineering review, the budget was decreased by nearly 17%. During this process, the dams were modelled with 3D printing and the riverbeds were CNC routed, and then tested in hydraulic flumes to confirm their flow characteristics and to optimize required concrete volumes. The completed dam now allows water to be taken directly from the reservoir and piped down and across the harbour to the city's water system, providing residents with safe potable water.
Landslide and slope restoration – Englobe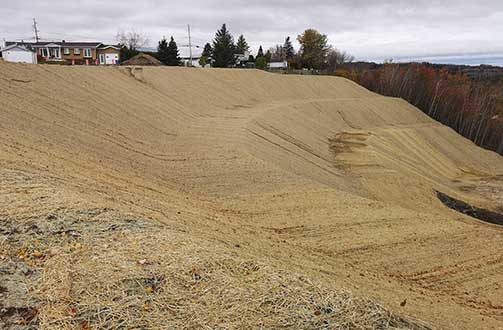 The City of Saguenay faced a state of regional emergency and wanted to protect its residents from landslides. Englobe provided key geotechnical analyses, supervised emergency stabilization work, citizen evacuations, property recovery, destruction of at-risk residences and restoration of the damaged slope. In a world of technical hyperspecialization, Englobe innovates by acting as an agile and flexible integrator, capable of managing both the human and the technical aspects. By creating a robust operational chain, the team provided rapid, privileged access to the decision-makers and resources needed to complete the project. The emergency evacuation of 83 homes potentially saved 230 residents. Blending civil engineering and agronomy, Englobe harmonized the damaged environment and restored the ecosystem to its original state, using local native species.
Caribou Falls Block Dam 2 Reconstruction – KGS Group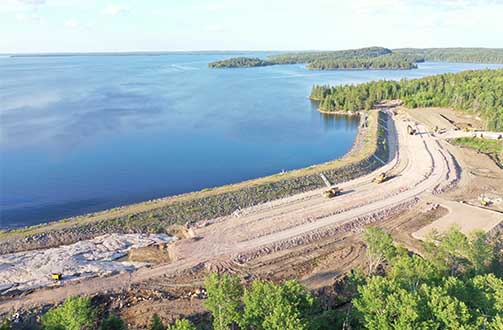 The Caribou Falls Generating Station Block Dam 2 sustained unexpected slope movements after 60 years of good performance. Ontario Power Generation retained KGS Group to perform investigations, design, and provide contract administration and dam performance monitoring for reconstruction of the dam. Several state-of-the-art geotechnical and geophysical exploration techniques were employed, including a seismic refraction survey and seismic cone penetrometer testing to best understand the subsurface conditions of the site. Innovative materials and sound engineering judgement were applied to design and construct a new earthfill dam. KGS Group integrated constructability, risk mitigation and schedule saving strategies at the planning level to best minimize construction obstacles. Despite unforeseen challenges and adversity during execution, the team delivered a successful project that was safely completed on budget and on schedule.
Comox Valley Water Treatment Project – Stantec Consulting Ltd.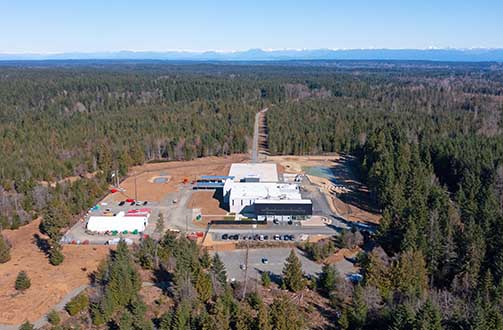 The Comox Valley Water Treatment Project has provided a vital source of clean drinking water for over 50,000 residents in the communities of Courtenay, Comox, and K'ómoks First Nation. Stantec, as prime consultant to the Aecon design-build team, worked in partnership and collaboration with the Comox Valley Regional District and the local community to deliver a new water treatment system. This included an intake and raw water pump station, and a water treatment plant and conveyance system which supplies 75 million litres per day of treated water from Comox Lake. The project incorporates many energy conservation features including natural lighting, LED lighting, energy efficient residuals dewatering, and recycling of all process water, including spent filter backwash water, which enables 99% of water coming into the plant to be processed with minimal wastage. The Comox Valley Water Treatment Project was delivered in only 30 months from design to completion through COVID-19 and supply chain disruptions with 99% of the workforce employed from the local community. Built with future growth of the region in mind, the new water treatment system provides robustness and flexibility for raw water quality variation to accommodate future treatment that may be needed.
Local, carbon-neutral biofuel at ArcelorMittal's pellet plant – BBA
To reduce greenhouse emissions from its iron oxide pellet production processes, ArcelorMittal decided to replace some of the fuel oil used in its Port-Cartier facilities with pyrolysis oil, a biofuel made from logging waste. This project is the first in the world to use pyrolysis oil in its processes on a regular basis and represents the largest consumption of a fuel made from forest biomass. BBA performed the feasibility study to ensure the viability of converting the plant's fuel oil systems. The team also ensured that the pyrolysis oil facilities were safe and met operational requirements, industry standards, and best practices for both worker health and safety and the environment, while also ensuring that iron pellet production and quality remained optimal. The successful feasibility study opens the door to the construction of a complex-wide pyrolysis oil system that will cut the client's annual use of heavy fuel oil and coal by 23% and reduce CO2 emissions by over 57 tonnes. 
Energy Loop/Espace Montmorency – gbi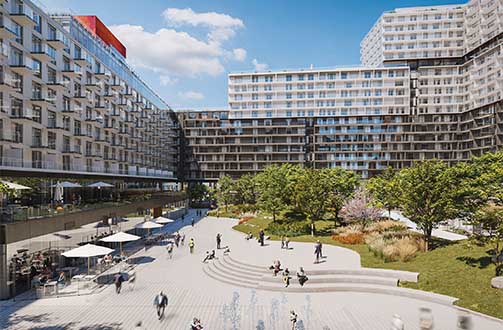 gbi's initial brief was to carry out the engineering for a new construction of four multi-purpose towers. A feasibility study was first carried out to assess the possibility of integrating an energy-sharing loop into a large-scale, multi-purpose complex. By modelling the energy requirements for each hour of the year, we were able to compare the annual needs of a traditional system with those of a loop enabling energy to be recovered and shared between buildings. gbi convinced the client to attempt the integration of this technology, pointing out the many advantages, including reduced power requirements for the systems installed at the thermal power plant, and therefore lower operating costs. With the implementation of a common energy loop for the entire site, Espace Montmorency reconciles environment, economy and diversity of uses.
Calgary Cancer Project (Calgary Cancer Centre, Phases 1-3) – Arup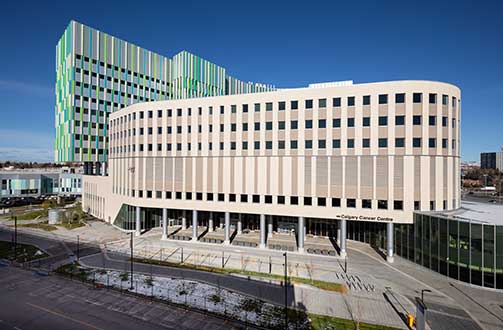 Arup, the Bridging Consultant on the Calgary Cancer Project, delivered an on-time and on-budget project for their client Alberta Infrastructure and the owner, Alberta Health Services. Arup provided full multi-disciplinary consultancy services including developing project requirements and supporting the design-build procurement. They also provided design review, compliance management, site monitoring, and contract administration. This $1.4B design-build project was complex because of the 63 departments each represented by a stakeholder user group and over 60 separate building systems that needed to achieve the required integration and interoperability standards. Additionally, over seven years the Arup team project managed and coordinated its own large-multi-disciplinary team of over 100, together with many more from 12-sub-consultants. The project's resulting socioeconomic benefits include improving health outcomes and job creation for the citizens of Calgary.
Sainte-Justine University Hospital Centre – Growing Up Healthy (Phase 2) Redevelopment – CIMA+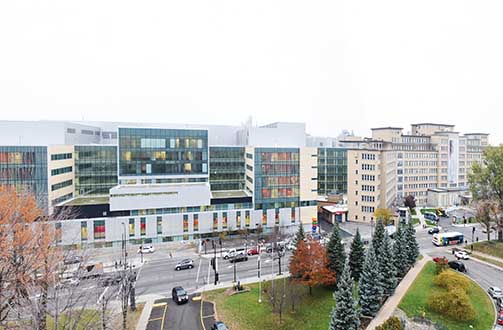 The "Growing Up Healthy" program (Phase 2) of the Sainte-Justine University Hospital Centre aimed to completely transform spaces of an outdated building into modern facilities in order to equip them with the necessary infrastructure to better meet the needs of mothers and children. CIMA+ has worked jointly with the hospital centre since 2017 to ensure the success of this project, which seeks to create functional spaces better adapted to current and future medical practices. The team was mandated to lead the modernization program, providing a complete solution for project management, risk management, cost management, schedule management and procurement management. Thanks to the CIMA+ team's strong leadership at every stage of the lifecycle, the hospital's needs were met and the work was delivered without disrupting operations, while optimizing costs and schedules in the context of the pandemic. This is an outstanding achievement for the hospital's assets.
WSP Digital Acceleration Initiative – WSP Canada Inc.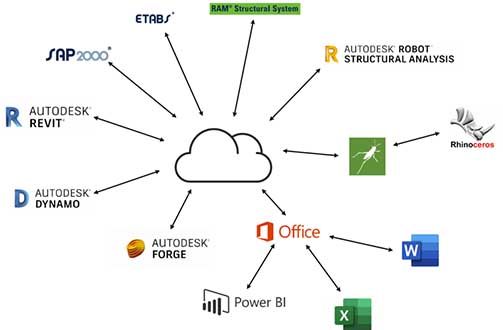 In 2020, WSP launched a strategic digital acceleration initiative with the goal of becoming a fully integrated firm with advanced technology as the basis of their service delivery. A Digital Solutions team of experts was formed to educate and elevate the team, create integrated standardized digital workflows, and work towards a central database that integrates various project data streams, all in both official languages for 760 employees across 22 different offices. Implementing these practices has led to an increase in the direct labor multiplier by 4.8% and enabled WSP to offer digitally integrated consulting services to clients. This will position WSP for successful project outcomes amongst the adapting needs of the industry including digital asset management and decarbonization.
Featured image: The Waaban Crossing (formerly Kingston Third Crossing). (City of Kingston)