The Government of Canada and the Federation of Canadian Municipalities (FCM), announced an investment of more than $6.2 million through the Green Municipal Fund (GMF) to reduce greenhouse gas emissions from municipal buildings in the Town of Beckwith and the Region of Peel in Ontario.
"By investing in innovative green solutions, we pave the way for cleaner, healthier communities across Canada. Through strategic partnerships and sustainable initiatives like the Green Municipal Fund, we're accelerating the transition to resilient, net-zero communities, leaving a greener footprint for generations to come," said Jonathan Wilkinson, Minister of Energy and Natural Resources.
Beckwith receives $5.75 million (a $750,000 grant and a $5-million loan) to replace its aging municipal building with a new high-performance and net-zero facility. The new building will feature a combination of green building best practices including a building automation system to reduce consumption by lowering temperature setpoints in unoccupied areas, as well as advanced LED lighting controls. It replaces the township's current municipal building, built in 1962, which no longer serves the community's needs and emits a large amount of greenhouse gases. The new building will also utilize a rooftop solar photovoltaic system, designed to provide 100 per cent of the building's energy requirements.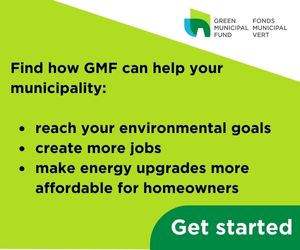 "Climate action can take many shapes and forms. Using highly innovative technologies to reduce greenhouse gas emissions in various sectors and help us adapt to the harmful impacts of climate change is one of them. Through this funding, we are supporting great municipal projects that can deliver financial, social, and environmental benefits to communities in the Township of Beckwith and the Peel Region in Ontario," said Steven Guilbeault, Minister of Environment and Climate Change.
In addition, GMF will provide $525,000 to support the following three feasibility studies by the Region of Peel, with each receiving $175,000 in funding.
The Peel Regional Police will construct a new operational facility to better accommodate services, supporting the entire police force and housing other departments. The study will aim to reduce the carbon footprint of this new building and address climate change throughout its design process.
Peel Regional Police will also construct a new division on five acres of land within the City of Brampton to transition a portion of the 22nd Division, which is currently set to be decommissioned in the coming years. The study will evaluate how to design a net zero police division.
Finally, the Regional Municipality of Peel is currently looking to upgrade the Clarkson Wastewater Treatment Plant to better integrate energy recovery, conservation, and on-site generation measures. The proposed upgrades will significantly reduce greenhouse gas emissions and increase wastewater treatment capacity, supporting expected population growth in the region and reducing costs.
GMF, administered by the Federation of Canadian Municipalities, is funded through an endowment by the Government of Canada. GMF helps local governments switch to sustainable practices faster. Its unique mix of funding, resources and training gives municipalities the tools they need to build resiliency and reduce greenhouse gas emissions.
"Canadians know that climate change is one of the biggest challenges of our generation and have seen the increasing and devastating effects of extreme weather events and wildfires hit home in our communities. Municipalities have influence over half of all greenhouse gas emissions but operate on limited resources. That's why funding support for initiatives like the ones being announced in Beckwith and the Region of Peel is so important as they help to reduce energy consumption and emissions from public facilities. Today we're building on a proven track record of over 20 years of successful work by the Federation of Canadian Municipalities' Green Municipal Fund to make municipalities greener places to live. That work could not be possible without an endowment by the Government of Canada," said Scott Pearce, FCM president.
Featured image: Clarkson Wastewater Treatment Plant. (Region of Peel)