The Government of Canada announced funding to increase energy conservation through a building retrofit at Inner City High School, which provides Edmonton's Indigenous and other urban youth with a path to a brighter future.
This investment will improve the building's sustainability and help create organizational stability for the Inner City Youth Development Association (ICYDA), the non-profit Indigenous organization that manages the school. Funding will support energy-efficient renovations to reduce the school's carbon footprint and lower utility costs directly linked to the building's operation, which place a significant strain on the ICYDA's annual budget. Upgrades will include improved glazing, alternative energy sources as well as retrofits to increase the building's climate resilience and help extend its use for decades to come. These improvements are expected to reduce the facility's energy consumption by an estimated 63.3% and greenhouse gas emissions by 176 tonnes annually.
"Today's investment will support Indigenous and urban youth in their development. This building is also paving the way toward our net-zero goals, reducing harmful carbon emissions, and improve energy efficiency in buildings. This is a great example of how we can build a greener and more sustainable future together," said Randy Boissonnault, Minister of Tourism and Associate Minister of Finance and MP for Edmonton Centre.
As a result, the community will be able to redirect cost-savings back into the school, which provides life-changing programming for its students through a high school education and employable skills. The school will also serve as a community showcase for clean, inclusive infrastructure and sustainable communities.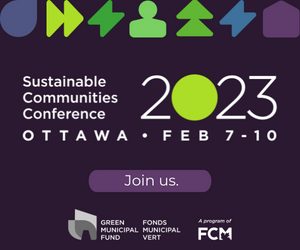 "We are proud to be a small part of Canada's action to tackle climate change, pointing the way for the next generation. Canada's Green and Inclusive Community Buildings program will make our building a community showcase of inclusivity and energy efficiency. This retrofit ensures our programming continues to help thousands of Edmonton's marginalized urban Indigenous and other youth become productive citizens for another 30 years," said Dr. Joe Cloutier, Director of Education, Inner City High.
Additionally, funding will support accessibility improvements throughout the school, including the installation of powered doors in main access points, ramps at building entrances, loading and parking areas designated for persons with disabilities, and signage in both English and Cree.
Featured image: (Twitter – @R_Boissonnault)