The Cape Breton Regional Municipality (CBRM) Healthcare Redevelopment project is another step closer to transforming the way health care is delivered in New Waterford and surrounding area, and the communities of the Northside.
The Nova Scotia government awarded the contract for the construction management services for the New Waterford Community Hub and Northside Health Centre projects to PCL Constructors Canada Inc.
PCL will advise on the planning and management of the construction work. Construction of the Northside Health Centre is expected to begin in spring 2021. Construction of the New Waterford Community Hub is expected to begin later in 2021.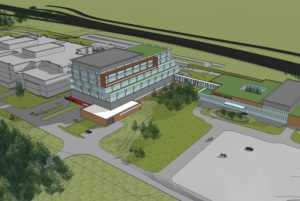 Design plans for a new Cape Breton health care facility,
which represent a history investment in the area.
When completed, the New Waterford area and the communities of the Northside will each have a new, modern health centre and a 60-bed long-term care home with space for physicians and primary health-care teams, x-ray, blood collection, diagnostic imaging, mental health and addictions treatment, public health offices and many services currently available at the New Waterford Consolidated Hospital and Northside General Hospital. Both projects also include 12 short-stay beds.
In New Waterford, both the health centre and long-term care home will be built on the Breton Education Centre school site, along with a new school with gyms and a 500-seat theatre, creating a community hub.
The Northside Health Centre will have a new state-of-the-art laundry centre. Renal dialysis chairs will increase from 8 to 12 and it will become a centre of excellence for endoscopy.
Along with the New Waterford Community Hub and Northside Health Centre construction, the CBRM Health Care Redevelopment project also includes:
a new Cape Breton cancer centre and clinical services building which includes a new emergency department, critical care department, 72 inpatient beds and surgical suites at Cape Breton Regional Hospital
an expansion and renovation of the Glace Bay Hospital emergency department and surgical service
For further information on this project, click here.