By Mark Cardwell
Toronto architect Mike Love says he'd be proud to be involved with any of the many prestigious building projects that are going on right now in the heart of his hometown. But if he had to choose one, the 39-year-old says it would be the amazing mass timber project he's currently managing on the Six's waterfront.
"Toronto is booming these days, it's insane," said Love, an award-winning superintendent with PCL Construction, Canada's largest general contracting company. "The skyline is filled with cranes and there are so many great projects. But there isn't one I'd rather be part of than Limberlost Place. It's the closest to my heart."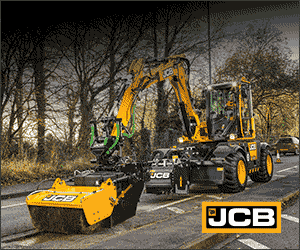 What's not to love about Limberlost Place? It's the first tall wood building in Ontario and a striking 10-storey institutional structure with one underground level that incorporates an all-Canadian line up of unique manufactured materials, ecological innovations, and novel engineering and design features.
Under construction since August 2021, the low-carbon, net-zero building is already considered a new global model for mass timber construction and will be years ahead of Toronto's goals for construction sustainability and performance when it finally opens its doors to students and staff of George Brown College (GBC) in January 2025.
"I was interested in mass timber construction long before this project came along," said Love. "So, when the opportunity arose, I threw my hat in and was fortunate enough to be named lead superintendent. This is one of those iconic jobs you want to be a part of."
Located on GBC's Waterfront Campus and overlooking Toronto Harbour at Queens Quay East and Dockside Drive, the purpose-built facility is being built next to GBC's decade-old Daphne Cockwell Centre for Health Sciences. In March, an all-timber, 31-tonne pedestrian walkway was installed between Limberlost's sixth floor and the health sciences centre's fifth floor, connecting the two buildings 65 feet above street level.
Initially dubbed The Arbour—a name inspired by the mass timber design proposed by architectural joint venture partners Moriyama Teshima and Acton Ostry Architects, winners of GBC's four-month international design competition—it was renamed in 2021 when Toronto philanthropist Jack Cockwell, who also bequeathed 10,000 acres to the Limberlost Forest and Wildlife Reserve in Ontario's Muskoka region, donated $10 million to the project.
The new building will house to GBC's schools of architectural studies and computer technology as well as the Brookfield Sustainability Institute. It will also house a fitness centre and a child-care centre on the ground floor that will service the Waterfront Campus and serve as a training platform for students in GBC's early-childhood education program.
"This is really exciting for our school and our students," said Nerys Rau, GBC's project director for Limberlost Place. "The goal is for the building to become a living lab where students will learn within and from it."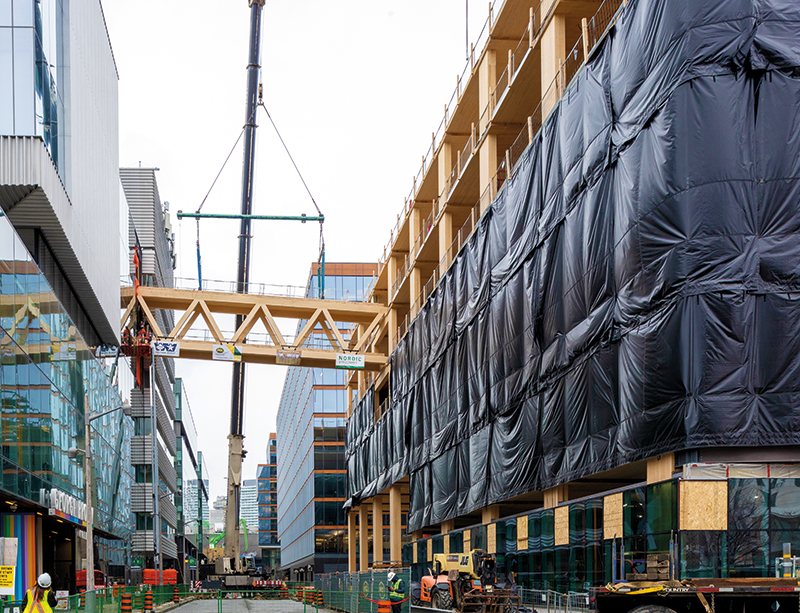 In addition to the building's mass timber components, many of which were designed and developed specifically for the project, Rau praised its space- and light-enhancing design and many cutting-edge sustainability features and smart building systems that can be updated and adapted to meet future academic and student needs.
Those features include connection to Canadian energy company Enwave's sustainable district energy system in downtown Toronto, which includes deep water cooling from the depths of Lake Ontario to photo-voltaic roof panels and a unique passive solar chimney system that creates natural convection and draws air up and through the building's manual operable windows on every floor.
It also has a weather station on the roof that senses air quality, air speed and temperature. When all three metrics are good, a notice will be sent to staff saying it's alright to open windows.
The building's long-span, beamless structure will allow for the use of demising walls to expand or contract classroom sizes while providing both ample room for labs and offices and stunning vistas of the surrounding waterfront and Toronto's master-planned East Bayfront community.
Structural topping out or completion of the main structure of mass timber and steel is expected to be finished this summer. It will take another year for the interior finishing work before project managers hand the keys over to GBC in the fall of 2024.
"Every week there are massive changes, it's amazing to see how fast it's going up," Rau told ReNew Canada in late March, when construction had reached level nine with steel and level seven with wood. "Working on this project feels like being part of the history of an important legacy building for our college and the city of Toronto."
Toronto architect Phil Silverstein shares those sentiments—and then some. A seasoned designer, project manager and job captain with Moriyama Teshima who works with the firm's design leader and senior partner Carol Phillips, one of the brains behind Limberlost Place, he says the new building is both an architectural wonder and a testament to the promise of mass timber for low-carbon building construction.
"Because Limberlost is for students and it's on the lakefront, where it's breezy and open, we wanted to give the impression or feeling that it is a living, breathing thing, like a tree rooted in the ground," said Silverstein. "We wanted it to be airy with natural ventilation and access to fresh air and sunshine in the heart of the city."
Limberlost Place, he added, will perform differently than typical buildings in terms of acoustics, climate control, daylighting, and fresh air. "Occupants will have a much higher level of engagement and interaction with the building systems."
He also noted that Limberlost Place's fresh air ventilation system will be shut off six months a year—something that would translate into a whopping 75 per cent savings in operational energy from the hypothetical reference building used in the project. The exterior envelope also features energy saving features such as high-performance glazing, less glazing with a 50/50 window/wall ratio.
Despite the considerable operational energy savings that the building's sustainability features will help to achieve, Silverstein believes its biggest impact will be cultural.
"Limberlost is an extraordinary building due to the high level of innovation—but our hope is that it becomes ordinary," he said. "We tell the many architecture students who tour the building that what we're doing [here] should be their starting point in design."
According to Silverstein, the building's signature design characteristics are a direct result of GBC's stated need in the international competition for a smart, low-carbon, future-proof building with open spaces and net-zero carbon emissions (meaning an absence of gas-fired equipment).
"The only way to do that was through the use of mass timber," he said.  "Our mandate was to develop a mass timber approach that is simple to install and can be used across different platforms and design concepts, including industrial, commercial and residential."
Silverstein notably pointed to the unique slab band concept that was developed specifically for the Limberlost Place project. The new beamless structural system, which provides a column grid of 9.2 metres, allows for column-free classrooms and future adaptability. It also enabled designers to get around zoning height restrictions and add a tenth floor.
"Having no beams means you can lower the floor and the ceiling height," said Silverstein. "We needed a structural system that could span that, and we also needed to make a 10-storey building to get federal funding to test our structural system, to confirm proof of concept."
Backed by nearly $7 million from Natural Resources Canada's Green Construction through Wood (GCWood) Program, the new 9.2-metre-long slab bands—also called Timber Concrete Composite (TCC) panels—were successfully tested to breaking force at the University of Northern British Columbia.
"They help make the floors less bouncy," Silverstein said about the panels, which are 400-millimetres thick and have a 100–millimetre concrete topping. The building's high ceilings and open spaces, he added, never fail to impress visitors who take the public tours that are organized every second Friday. "They are visually stunning," said Silverstein. "Everyone who visits is amazed."
Robert Jackson agrees. A structural engineer and mass timber design specialist in Fast + Epp's Vancouver office who has worked on the Limberlost Place project for five years, he said ground-breaking work has been done for the architecturally expressive building, where the design and structure does triple duty, acting as the finish, dealing with acoustic challenges, and concealing mechanical components.
"Our vision was based on and revolves around the slab band idea," said Jackson.  "This is the first big project that applies and uses that concept."
He notably credited the R&D work at UNBC, where three concepts—screws, perforated plates and kerf plates, which was ultimately chosen—with helping to get connector costs down for the use of cross-laminated timber (CLT) panels, which is growing exponentially across Canada and the United States, where some 500 projects using mass timber in combination with steel brace frame core plus concrete plus CLT are active or completed.
"It's a good way to connect concrete and timber," adds Jackson about the kerf plates, where steel plates are inserted into a saw kerf in CLT panels. "It's all about proportions of concrete and wood. We're trying to use the best materials in the right place. Concrete is good in compression, while timber is good in tension."
Limberlost, he added, is using 60-foot-long black spruce panels made by Nordic Structures in Chibougamau, Que. Bare CLT panels are delivered to a satellite facility, a seven-minute drive away from Limberlost Place, where trucks are staged with mass timber components to ensure just-in-time delivery to the job site and composite slab bands are prepared by putting screws, rebar, kerf plates and then cast a layer of concrete on the bare CLT panels, which are then left to cure a month and used when needed. Construction is done using two stories of steel, then two stories of wood.
"It's like watching this cool dance going up like a construction ballet," said Jackson, who visits the site regularly to ensure construction follows design. "It's a real puzzle that requires a lot of organization. You need multiple trucks carrying prefab steel and timber and panels in the order they're installed. You have to organize that whole sequence—but in reverse order."
It's that needlepoint need for planning, coordination and engineering that makes the Limberlost Place project so unique for Mike Love. "We have to sequence, and phase engineer every CLT panel, glulam column and steel component," he said. "It's a big coordination effort."
He added that every piece of the building, "right down to the screws," was first modelled in 3D, an effort that began in 2020 and took a year to complete. "We built the entire building in 3D beforehand," said Love. "We used actual 3D models from the trades, including wood, steel, mechanical and electrical suppliers. Then our 3D modelling team merged them all together. We were then able to use this model to help inform the installation sequence and ultimately create a 4D schedule and virtual construction video that we're still using to this day."
He also lauded the custom engineering work that's been done on the fly by his team regarding hoisting, lifting and rigging devices.
One example is a device dubbed "The Rocket"— pointed yellow pieces of steel that sit atop HSS tubing—that help to align and join the 20-plus connection points when the massive CLT panels are landed into place.
"Because it's mass timber there are only about 50 workers on the Limberlost site, which is about half the number you would have on a regular construction project using steel and concrete," said Love. "With a concrete building more people are needed because you're building forms, installing, and reinforcing steel, pouring concrete, and then stripping and cleaning up the formwork. With mass timber the pieces come prefabricated, so they can simply be lifted into place. It's a completely different process and it's amazing." 
MASS CONSTRUCTION
Approximately 65 feet above street level, the bridge is 21.4 meters long and is made up of two glue-laminated trusses and four cross-laminated timber panels.
The two glulam trusses are made up of 10 pieces each, with two truss chords and eight vertical members.
The vertical members are connected with 22 steel plates and 241 steel dowels that pin the truss chords and vertical members to the steel connection plates.
The truss chords weigh approximately 4,250 pounds each. The vertical members weigh 640 pounds each.
Each cross-laminated panel weighs approximately 7,840 pounds each.
At the point of install, the bridge weighed approximately 31 metric tonnes.
LIMBERLOST PLACE PROJECT TEAM
Owner: George Brown College
Architect: Moriyama Teshima Architects in joint venture with Acton Ostry Architects
Construction manager: PCL Constructors Canada Inc.
Mass Timber: Nordic Structures
Structural Engineer: Fast + Epp
Mechanical and Electrical Engineer: Integral Group
Structural Steel Design-Assist: Walters Group
Building Envelope: Morrison Hershfield
Sustainability Consultant: Transsolar
[This article originally appeared in the July/August 2023 edition of ReNew Canada]
Mark Cardwell is a freelance writer based in the Quebec City Region.
Featured image: Construction is underway on Limberlost Place, the latest addition to George Brown College's Waterfront Campus. The mass timber, net-zero carbon emissions project will be the first institutional building of its kind in Ontario.