By Colliers Project Leaders
Centennial's A-Building Expansion will be the country's first zero-carbon, mass timber academic facility when it opens in Fall 2023. The building's design incorporates Indigenous principles and embodies the concept of Two-Eyed Seeing through inclusive, flexible learning environments, gathering spaces and more.
Sustainability, Truth and Reconciliation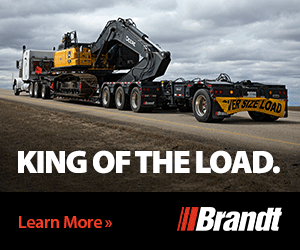 Located in Toronto, Ontario, Centennial College (Centennial) has five campus locations, each specializing in unique areas of study. With student enrollment numbers growing, Centennial needed to expand the capacity of its Progress Campus, which resides on the treaty lands and territory of the Mississaugas of the Credit First Nation. In acknowledgement of the Indigenous land the campus stands on and to support the college's commitment to Truth and Reconciliation, Centennial decided to build a sustainable gateway structure that embodies Indigenous inclusivity and culture.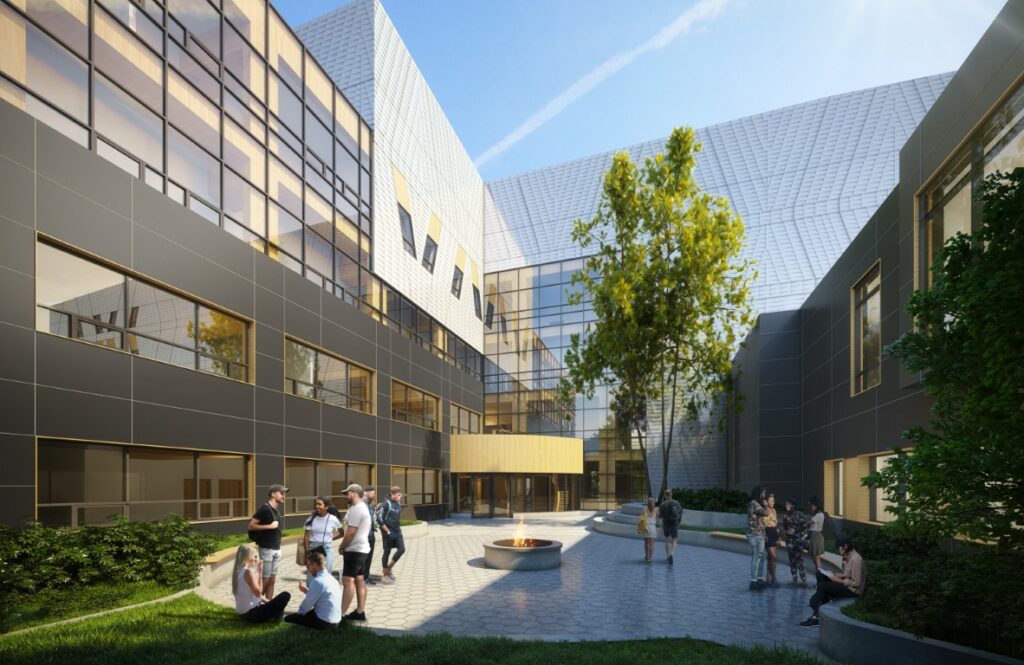 The new, state-of-the-art structure will include 1,057 individual pieces of locally sourced, cross- and glue-laminated Canadian timber. The use of timber is a conscious and sustainable decision, as the facility's design will also incorporate WELL, LEED and Net Zero Carbon elements to ensure that the building's operations produce no emissions.
The six-storey, 150,000 sq. ft. facility designed by Smoke Architecture and DIALOG Design stems from the Mi'kmaq concept of 'Two-Eyed Seeing' and draws heavily from Indigenous creation stories, principles and nature. The expansion will include gathering spaces for Traditionalists, Elders, citizens of Indigenous Nations and members of Indigenous communities. It will also include indoor and outdoor learning spaces, communal areas, office space and areas suitable for smudging ceremonies. Its flexible learning spaces and modular furniture will contribute to the concept of inclusivity, as students, staff and visitors will be able to reconfigure the space to be more conducive to various learning models.
"At Centennial, we view sustainability, inclusivity and Indigeneity as wholly interconnected and we wanted to create a learning space that demonstrates the importance of that tripartite relationship," says Dr. Craig Stephenson, President and CEO of Centennial College. "We're so incredibly excited to see our unique academic building rising quickly. Indeed, rapid construction is said to be one of the many benefits of working with wood."
Project management expertise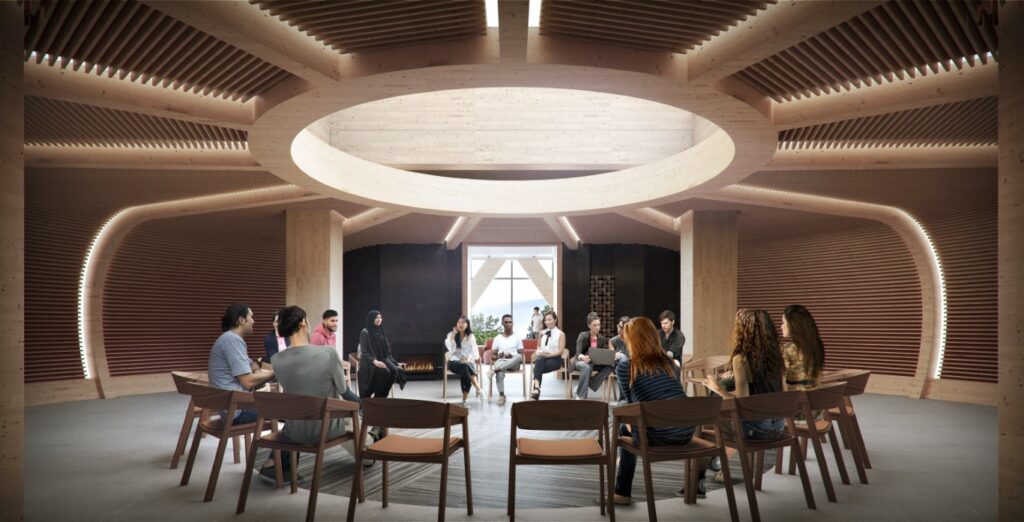 Building off the rapport developed over the course of Centennial's Downsview Campus project, the college approached Colliers Project Leaders – one of Canada's largest capital project advisory and project management organizations – in the early planning stages with its vision for this new building.
Based on a space assessment and overall Campus Master Plan, the Colliers Project Leaders team had several consultations with Centennial to establish a clear vision and strategy for its innovative A-Building Expansion.
With the strategy developed, Colliers Project Leaders began to implement their comprehensive project management services throughout all phases of work, starting with a series of procurements for site investigations, bridging and compliance consultants, including the pre-qualification and eventual award of the Design-Build contract. With the team established and the concept design accepted, Colliers Project Leaders led the project team through an extensive implementation plan which required accounting for the impact of the pandemic on costs and schedule.
Poetic inspiration
With Truth and Reconciliation at the forefront of this project, Centennial and Colliers Project Leaders met with Chief R. Stacey Laforme of the Mississaugas of the New Credit First Nation, who shared some of his stories and learnings and recommended Living in the Tall Grass: Poems of Reconciliation – a book of poems he'd written and published. The college quickly obtained the book and took a moment of pause to truly assess the poems and stories. With these new learnings and understandings, the book motivated the team and profoundly influenced the concept, design and procurement strategies of this project.
Recognizing that they couldn't convey the book's messages in a Request for Proposal (RFP), the team purchased a copy for each pre-qualified design-build proponent well in advance of releasing the RFP, and recommended they read it to inspire their designs and overall submissions. This unique approach led to proponents that understood the importance of Centennial College's project and aligned with its vision. During presentations, some team members expressed the emotional impact of the Chief's words and how certain lines translated into the proposed design.
"Indigenous narratives and principles are embedded in every aspect of this project, from the positioning of the walls to the use of reclaimed wood for furniture," says Robert Balicsak, Colliers Project Leaders' National Higher Education Lead. "Making meaningful connections with Indigenous communities and prioritizing sustainability in capital projects is essential for meeting the needs of future generations. We are honoured to have played a small part in helping Centennial realize this vision."
Centennial awarded the project's design contract in December 2019, just weeks before the COVID-19 pandemic impacted Canada. The project management team supported the college amidst health and safety, supply chain and other unprecedented project challenges. Developing a comprehensive execution strategy, they were able to decrease COVID-19 cost and schedule impacts for the college by securing permits, arranging site inspections and resolving other onsite operational issues impacted by new physical distancing policies.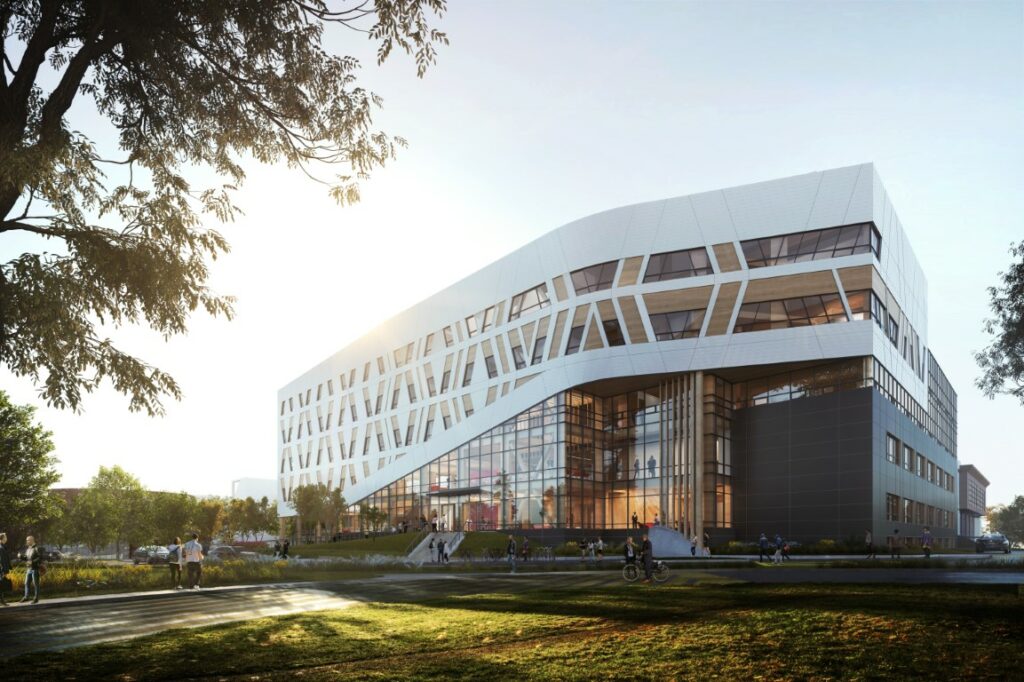 The future of higher education projects in Canada 
Centennial College's A-Building Expansion has already gained international recognition with its inclusion in Newsweek Magazine's Climate-Friendly Buildings That Look Great and Do Their Part for the Planet article. The project is on schedule to open to students, staff and campus visitors for the Fall 2023 semester and is on track to receive WELL, LEED and Zero Carbon certifications. It is setting a new standard for the inclusion of innovative, sustainable elements and flexible learning environments in future higher education projects across the country.
From Net Zero campuses and shared-risk delivery models to ensuring authentic Indigenous engagement, hear more about how colleges and universities across Canada are evolving their capital projects.
Watch this video with interior designer Chen Cohen of DIALOG Architects and Eladia Smoke of Smoke Architecture on the process of incorporating Two-Eyed Seeing into the project's design.