Embodied carbon is changing how we veiw sustainability 
By Glenn Miller
The push for 'green' is now well-entrenched in our collective psyches but it is worth remembering that it wasn't always this way. BREEAM (Building Research Establishment Environmental Assessment Methodology), launched in the U.K. in 1990, was the first rigorous rating system for sustainable buildings, but on this continent, it was LEED (Leadership in Energy and Environmental Design), a product of the U.S. Green Building Council, that made the first inroads.
What started as a trickle of interest in green buildings in the 1990s quickly became a flood as thousands of industry practitioners across North America signed on to add LEED certification to their credentials. Today, more than 200,000 LEED professionals share a commitment to "reducing carbon emissions, saving water, conserving energy and reducing waste." Although only about 16 per cent are based in this country, Canadian practitioners appear to be punching above their weight. According to the Canada Green Building Council (CaGBC), which celebrated 20 years in 2023, Canada certified 248 buildings last year, placing Canada fourth in the world behind China, the United States and India.
A key factor driving CaGBC's success is that criteria for certification have not remained static but have evolved to reflect changing expectations from industry as well as society as a whole. Concerns about the impact of climate change are now routinely reflected in how investors calculate business risk.
"Over the last 20 years, CaGBC, its members and stakeholders have proven that green buildings have positive impacts on people, business and the planet," Thomas Mueller, president and CEO, told attendees at the organization's most recent annual conference. As the scope of LEED has grown, Mueller noted, "LEED certification continues to be the gold standard for green building, offering Canada's building sector a holistic way to deliver on sustainability targets, from energy efficiency and wellbeing, to resource use, carbon emissions and resiliency."
According to Brent Gilmour, CaGBC's chief commercial officer, a key reason for the organization's increasing influence has been its ability to "expand the audience" for LEED certification, achieved through constant evolution of a certification process that now attracts attention from CEOs and chief financial officers, not just real estate specialists. "The emphasis today has shifted to decarbonizing large buildings," he explains. "There is a rapid transition underway from 'green' as a somewhat abstract measure to the measurement of embodied carbon, which estimates emissions associated with materials and construction processes throughout the whole lifecycle of a building." Supporting this proposition, a 2022 CaGBC study found that most large buildings can be retrofitted to reach net-zero carbon emissions and still yield a positive net present value.
The new language of sustainability 
Gilmour believes that seeing the value of real estate portfolios through the lens of embodied carbon is beginning to influence the language of sustainability. This is in turn driving decisions to invest in net-zero buildings across the board. "Embodied carbon has become a de facto substitute for currency," he suggests. Referencing Strengthening Value Through ESG, a recent report from CBRE, Gilmour cites findings that underscore "a shift towards a more inclusive approach to the understanding of risk."
The report indicates that 79 per cent of respondents see green building certification as a "deciding factor in real estate decisions," and more than 60 per cent of respondents to a CBRE global survey support ESG goals (including building to a net-zero standard); and almost 50 per cent report that customers and shareholders are demanding products linked to net-zero performance. Significantly, two-thirds of respondents say they are committed to reducing emissions. "This is motivated by a strong desire to avoid having their real estate portfolios subjected to a 'brown discount,' a relatively new concept that favours green portfolios built to net-zero standards over assets perceived to be less sustainable because they lack built-in protection against future obsolescence."
One of CaGBC's most active partners in the process of future-proofing Canada's built environment is RealPac (Real Property Association of Canada). Its CEO Michael Brooks points out that, in addition to supporting green building certification, the association's priorities encourage the setting of targets for DEI, energy management and reporting on GHG emissions and 'sustainability reporting.' Brooks sees momentum in the practice of 'GHG accounting,' the expectation is that both the U.S. Securities Commission and the Canadian Securities Administrators will soon make emissions reporting mandatory for publicly traded companies. Moving beyond voluntary reporting will have a positive impact on both new builds and retrofits, says Brooks.
As more players aspire to net-zero ambitions, industry observers in the real estate space are working hard to ensure that the term doesn't become synonymous with 'greenwashing.' Another CaGBC partner is JLL Canada. The company uses CaGBC's conferences to disseminate its latest findings and to build momentum to withstand "a major disruption that requires a philosophical review of how the market behaves and reacts to new demands and imperatives."
Recognizing that not all real estate portfolios are created equal, JLL Canada, led by its CEO, Alan MacKenzie, understands that capital markets investing thrives on both fear (when the challenge is to avoid a 'brown premium') and opportunity (where the focus is on "investing in a green premium)." The new determinants of real estate valuations, JLL concludes, are embodied carbon, managing climate risk, and whether buildings offer their occupants a healthy environment. All these factors trickle down to the buyer pool through due diligence and ultimately affect the ability to access capital. Where once the focus might have been on meeting the needs of either investors or the occupiers, the new normal is to embrace "shared incentives" that work for everyone. As the industry's ability to generate better data continues to improve, JLL acknowledges that "waiting for perfect data before making decisions is no longer an option" and that "leaning into structural changes is the way to go."
Other factors at play in the push to decarbonize include changes underway via a new National Building Code. The next version in 2025 will include embodied carbon as a required element, not just a 'nice to have.' CaGBC's Brent Gilmour points out. "And by 2030, all provinces will be required to harmonize—that will be huge," he insists. As well, lifecycle performance metrics are being developed globally for all the inputs required to create or retrofit buildings to net-zero. "EPDs, or Environmental Product Declarations, are coming," Gilmour suggests, adding that extending environmental performance metrics to the entire supply chain for green building represents a tipping point for the entire industry.
Net-zero expected to drive positive change 
The CaGBC and its partners also praise federal government leadership through a variety of programs. The most consequential is its requirement that 75 per cent of all federal office leases be net-zero carbon or climate resilient by 2030. The Canada Infrastructure Bank (CIB) has also embraced the concept of embodied carbon and is investing millions to expand the capacity of the private sector and indigenous communities to undertake building retrofits to encompass small and medium sized buildings in addition to energy service companies that are part of the supply chain. At its recent annual general meeting, CEO Ehren Cory described the CIB's increasingly active presence in supporting retrofits; the CIB pursues a strategy of investing capital in retrofit projects upfront, then exiting quickly once projects are underway so that funds can be reinvested. The CIB is a "co-investor" Cory says. "That is how we partner with everyone, so that there's a shared sense of skin in the game and a shared incentive for success."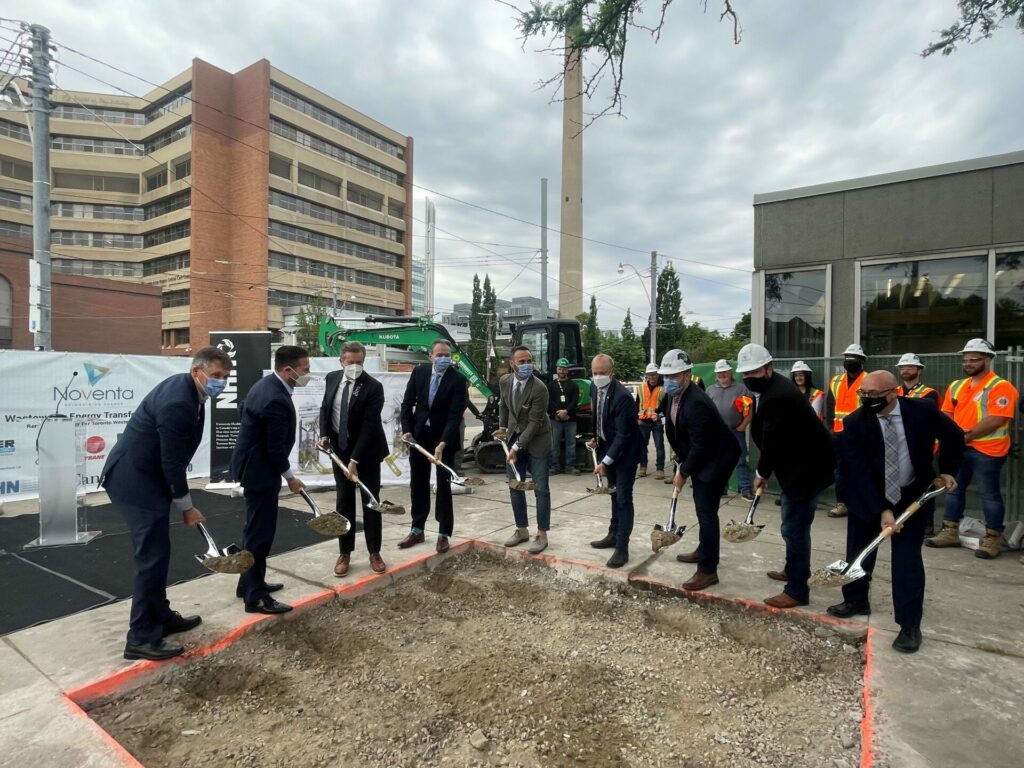 Toronto hospital not wasting its water 
Toronto Western Hospital (part of the University Health Network) is undergoing a $43-million retrofit of its heating and cooling system to transfer thermal energy to and from wastewater flowing through the mid-Toronto interceptor sewer to deliver low-carbon energy, reducing carbon dioxide emissions by 250,000 tonnes over the life of the project.
Billed as the world's largest WET (wastewater energy transfer) projects, the hospital's principal partner Noventa is using technology licensed from HUBER ThermWin. The company is constructing a wetwell more than 150 feet below ground to house a HUBER Rok4 pumping station. In addition to saving billions of kilowatt-hours over the life of the project, 16 BG8 heat exchangers will provide 19 megawatts of thermal energy capacity, more than 2,400 tonnes of cooling capacity and 33,000 MBTU of heating capacity.
The Toronto Western initiative is one of several retrofit 
projects benefitting from a $100-million loan from the Canadian Infrastructure Bank.
"Wastewater is an untapped renewable energy source that is underutilized in North America. With the potential to supply over 350 billion kilowatt-hours of low-carbon thermal energy, wastewater energy transfer can be used to heat and cool our buildings to help us meet our climate change commitments," said Dennis Fotinos, CEO of Noventa.
Glenn Miller, FIP is a senior associate with the Canadian Urban Institute.
[This article originally appeared in the November/December 2023 edition of ReNew Canada]
Featured image: The Vancouver Convention Centre was the first double LEED Platinum convention centre in the world, and the first v4 Platinum Existing Building project to be certified in Canada. (Hubert Kang/VCC)