The light-rail transit (LRT) extension to Barrhaven has received the green light from Ottawa City Council. The LRT will project will proceed, if upper levels of government invest in the $3-billion project.
Council approved extending the LRT by 10 kilometres and seven stations from Baseline Station (located near Algonquin College) to Barrhaven Town Centre. Council voted 18 to 4 to approve the functional design.
The design includes three crossings to separate VIA Rail tracks from Woodroffe Avenue, the southwest Transitway and Fallowfield Road, along with interim measures to make transit more efficient and reliable along Woodroffe Avenue. Council previously approved an environmental assessment to extend LRT to Kanata and Stittsville. Together with the Barrhaven extension, these projects comprise Stage 3 of LRT.
The 10 kilometres of twin-track, fully segregated electric LRT would have seven LRT stations. There would be 2.4 kilometres of track on an elevated structure west of Woodroofe Avenue between Baseline Station and Nepean Sportsplex. In addition, there would be 7.6 kilometres of track along the existing Southwest Transitway between Nepean Sportsplex and Barrhaven Town Centre.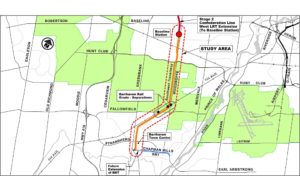 In order to build the new Knoxdale station, the city would need to demolish 120 homes in the Manor Village and Cheryl Gardens neighbourhoods for the route alignment. A working group including multiple city departments, Ottawa Community Housing representatives from the affected communities, the Ward Councillor and the Council Liaison for Housing and Homelessness, is making recommendations to the Finance and Economic Development Committee to assist in possible relocation initiatives by the end of the year.