Tunneling has begun on the Stage 2 Light Rail Transit (LRT) West extension project in Ottawa.
Ottawa Mayor Jim Watson, Canada's Minister of Infrastructure and Communities Catherine McKenna and Jeremy Roberts, Ontario Parliamentary Assistant to the Minister of Children, Community and Social Services and MPP for Ottawa West-Nepean attending the recent groundbreaking ceremony to celebrate the milestone for the 15-kilometre Stage 2 West Extension of the O-Train.
"The start of tunneling on the next phase of Ottawa's LRT shows that, in the face of adversity, we're continuing to build up important public transit that people rely on every day," said Minister McKenna. "Seventy-seven percent of Ottawans will live within five kilometers of the LRT and Stage 2 will reduce greenhouse gas emissions by 110,000 tons and help get cars off the roads."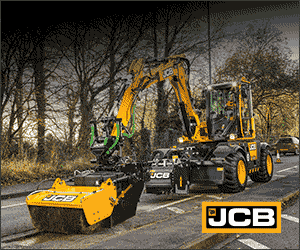 Construction will begin on the three-kilometer Parkway tunnel, which will run between Dominion Station and Lincoln Fields Station underneath the Sir John A. Macdonald Parkway and Byron Linear Park.
The second tunnel of the project is the 270-metre Connaught Tunnel, which will travel from Connaught Park, underneath Connaught Avenue, to Queensview Station.
Both tunnels will be built using the cut and cover construction method where excavation begins at the surface with support walls installed as the tunnel gets deeper. East-West Connectors (EWC), the contractor building the Stage 2 east and west O-Train extensions, will build permanent tunnel infrastructure prior to backfilling to surface level. Work will be carried out in stages to minimize impacts on pedestrians, cyclists and local traffic.
According to the city of Ottawa, when construction is complete, Byron Linear Park will be enhanced to include more trees, less pavement, more public art and additional plaza space for local events.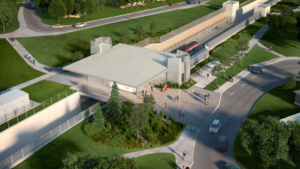 An artistic rendering of the design for the new LRT station in Ottawa.
The $4.66-billion project is jointly funded by the government of Canada, the province of Ontario and the city of Ottawa. The project will add 44 kilometres of rail and 24 new stations to the south, east and west.
The west extension of the Stage 2 LRT project will add 15 kilometres of rail and 11 new stations to the O-Train Line 1, known as the Confederation Line. There will also be a light rail maintenance and storage facility located at Moodie Drive. The project is expected to be complete in 2025.
"Stage 2 LRT will connect our communities, major employment centers, post-secondary institutions, shopping and recreation destinations and arts and culture hotpots. It's good news for our environment, supports healthy commuting, and gives residents more options on how they get around the city," said Mayor Watson.