The Town of Beaverlodge in Alberta has launched a request for partnership (RFP) seeking a private partner for the redevelopment of the Mountview Health complex.
The Town of Beaverlodge and their community partners are working to seize on an opportunity to harness the power of pubic-private-partnerships to support the long-planned replacement for the Beaverlodge Municipal Hospital across the starting line.
"This Request for Partnership is a long-awaited positive step towards realizing our vision of a new health facility within the Town that can serve our residents and those of the West County," said Beaverlodge Mayor Gary Rycroft. "The Town of Beaverlodge is excited that this critical project is moving forward and is thankful for the supports of our partners and our community."
The proposed complex would operate 24 hours a day with 12 inpatient care beds. It would include an emergency department, a lab, and diagnostics and therapy departments.
The Town of Beaverlodge and the County of Grande Prairie are expected to see continued growth within the Grande Prairie Region. Addressing the need for health services and support to the Grande Prairie Regional Health Facility will continue to be a high-level requirement of the region.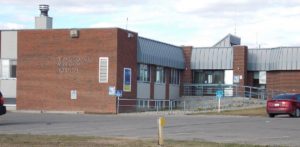 The current Beaverlodge Municipal Hospital is at the end of its life cycle.
The municipal hospital has come to the end of its life cycle. A new community health facility is needed to serve as a centralized location for health and emergency services in the West part of the County of Grande Prairie.
With this new facility there is an opportunity for a new service delivery model that would improve primary care, provide the services that the community requires, improve access and waiting times, while efficiently utilizing resources. Alberta Health Services has joined the committee as a committed partner in this process.
Last year, the municipality consulted with P3 Capital Partners, along with stakeholders like the County of Grande Prairie and Grande Spirit Foundation.
Once the private partner has been identified, Rycroft said next steps will include a robust and inclusive public engagement process. He hopes to involve not only Beaverlodge residents, but health care employees and various groups throughout the region.
The closing date posted on MERX is March 15, 2021.