Catherine McKenna, Minister of Infrastructure and Communities, and Andrée Laforest, Quebec's Minister of Municipal Affairs and Housing, announced joint funding contributions of over $637.8 million for 280 drinking water, storm water and wastewater projects in municipalities throughout Quebec. These projects include the rehabilitation of existing water pipes, pumping stations and water treatment facilities as well as the construction of new facilities.
The Government of Canada is investing $318.9 million in these projects through the Green Infrastructure Stream of the Investing in Canada infrastructure plan. The Government of Quebec is providing more than $318.9 million through the Fonds pour l'infrastructure municipale d'eau (FIMEAU) funding program.
"Building healthy communities starts with investing in essential services. Working with our provincial and municipal partners, we are ensuring Quebecers have access to safe and reliable drinking water and wastewater systems," said Minister McKenna. "Modern and efficient water infrastructure is essential to support healthy and resilient communities throughout Quebec. Canada's infrastructure plan invests in thousands of projects, creates jobs across the country, and builds stronger communities."
The Montréal region will benefit from 11 water and wastewater modernization projects in Montréal and one in Senneville. These projects involve replacing over 70 kilometers of water pipes as well as associated road restoration and roadway landscaping. The federal and provincial governments are each investing $43 million for a total of $86 million.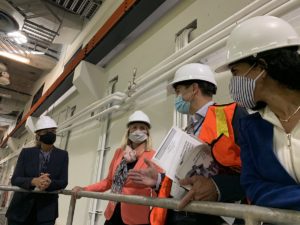 The ministers tour the Atwater drinking water complex in Montreal, Quebec.
"In LaSalle-Émard-Verdun, we have the opportunity to enjoy the Lachine Canal and the St. Lawrence River. Water plays an important role not only for the citizens but also for the economic vitality of our riding," said David Lametti, Minister of Justice and Attorney General of Canada, Member of Parliament for LaSalle-Émard-Verdun. "I am proud to welcome my colleague, Minister McKenna, to the Atwater drinking water plant complex, and that our government is investing in Montreal's economic recovery as well as a greener and more prosperous Canada,"
Through the Investing in Canada infrastructure plan, the Government of Canada is investing more than $180 billion over 12 years in public transit projects, green infrastructure, social infrastructure, trade and transportation routes, and Canada's rural and northern communities
As part of the Investing in Canada Plan, the Government of Canada has invested $6.2 billion in 778 infrastructure projects in Québec; $1 billion of this funding is supporting green infrastructure in Québec, including water, wastewater and storm water system upgrades.
FIMEAU aims to carry out the construction, rehabilitation, expansion and addition to municipal water and wastewater infrastructure. It consists of a total investment of $1.5 billion.  This work will allow the continuity of municipal services and the upgrade of water and wastewater systems to regulatory standards. Two more project submission periods are planned for 2022 and 2024.
The Plan québécois des infrastructures 2020-2030 provides for investments of nearly $7.5 billion for municipal infrastructure, under the Municipal Affairs and Housing department.
Featured image credit: Catherine McKenna, Ministry of Infrastructure and Communities.