The Ontario government is one step closer to getting shovels in the ground on part of the largest subway expansion in Canadian history with the release of a Request for Proposals (RFP) to advance tunnelling work on the Eglinton Crosstown West Extension (ECWE).
"We are making smart, long-term transit investments to address congestion, and give the people of Etobicoke, Mississauga, and the rest of the Greater Toronto Area more options to get where they need to be," said Minister of Transportation Caroline Mulroney. "Our government is committed to ensuring that our vital transit projects empower people and provide additional benefits for the communities in which they are being built."
On August 20, 2020, Metrolinx and Infrastructure Ontario issued the Request for Proposals (RFP) for advanced tunnelling, inviting three shortlisted teams to begin preparing submissions for how they will deliver the project if selected. Infrastructure Ontario and Metrolinx expect to award tunnelling contracts in mid-2021.
The three shortlisted teams are:
 Fast Eglinton Group
Applicant Leads: FCC Construccion S.A., Astaldi Canada Enterprises Inc., Salini-Impregilo S.p.A.
Design Team: COWI North America, AECOM Canada, Arcadis Canada Inc., Tunnel and Bridge Technologies Inc.
Construction Team: FCC Construccion S.A., Astaldi Canada Design & Construction, Inc., Salini-Impregilo S.p.A.
North American Tunnel Partners 
Applicant Leads: EllisDon Capital, Inc., Barnard LP
Design Team: McMillen Jacobs Associates, Aldea Services LLC, Englobe Corp., Lea Consulting, Ltd.
Construction Team: Barnard Constructors of Canada LP, Kenaidan Contracting Ltd.
Financial Advisor: EllisDon Capital Inc.
West End Connectors 
Applicant Leads: Dragados Canada Inc., Aecon Infrastructure Management. Inc., Ghella Canada Ltd.
Design Team: TYPSA Inc., EXP Services Inc.
Construction Team: Dragados Canada Inc., Aecon Infrastructure Management. Inc., Ghella Canada Ltd.
Financial Advisor: ACS Infrastructure Canada, Aecon Concessions, Scotiabank Capital, Ghella Investments & Partnerships
Upon evaluating the proposals received, Infrastructure Ontario (IO) and Metrolinx expect to award this tunnelling contract in mid-2021. To expedite work, tunnelling will begin first, followed by separate contracts for the balance of the work.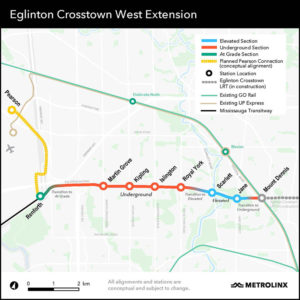 The ECWE will extend the Eglinton Crosstown Light Rail Transit project, currently under construction, by 9.2 km from the future Mount Dennis Station to Renforth Drive. The extension will create convenient connections between different transit systems throughout the region ― UP Express and Kitchener Line GO train service at Mount Dennis, TTC bus services at transit stops in Toronto, and MiWay and GO bus services via the Mississauga Transitway at Renforth Drive. The province is also committed to establishing connectivity to Pearson International Airport.
The province is moving at pace to plan, design and construct the required infrastructure for this project which has a preliminary cost estimate of $4.7 billion.
The ECWE project is estimated to support as many as 4,600 jobs annually during the six-year construction period. The initial business case forecasts the ECWE project will bring 31,000 jobs within a 10-minute walk to a station and attract 37,000 daily boardings by 2041.